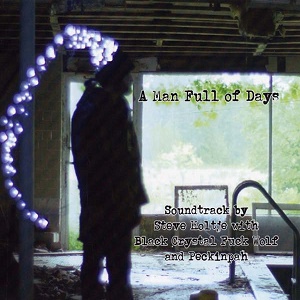 5 August 2015
Experimental composer Steve Holtje weaves an album of haunting soundscapes for a film soundtrack that stands on its own without having to see the movie.
Cavernous, yet eerily quiet, A Man Full of Days nods to the ambient darkness of noise bands like Yen Pox and Blood Box, as well as Erik Satie's gentle compositions. Sounds rumble from disturbed depths of pained psychosis, building, twirling and churning as they quietly morph in waves of drone, while dreamy piano pieces become skewed lullabies from childhood nightmares. Laptop artist, Black Crystal Fuck Wolf, adds a pair of sonic collages that seamlessly flow with Holtje's more sinister tracks and Peckinpah (Bruce McKenzie) delivers a soothing song from the Satie school of subtlety. It all culminates with Levko Revutsky and Vyacheslav Ovchinnikow's score for Aleksandr Dovzhenko's 1930 film Zemlya (Earth), which inspired the climax of Days.
As well as the music stands on its own, the thought of a visual backdrop for it makes the film itself all the more enticing. Step out of comfort into a dimension of paranoia, fear and psychosis where the angles are wrong and the shadows don't match.
comments powered by