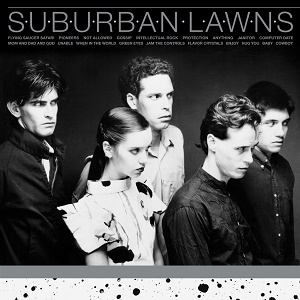 22 September 2015
Though they reached notoriety with the bizarre single, "Janitor," Long Beach, CA's Suburban Lawns remain a criminally ignored footnote in the annals of LA's new wave history. For the first time since it was originally released by IRS Records in 1981, the group's sole eponymous full-length gets reissued with the even rarer followup, 1983's "Baby" EP (IRS), giving these twisted neo-punks the recognition and respect they deserve.
If Butthole Surgers had been a new wave band, they could have recorded Suburban Lawns. Frenetic punk beats drive tightly controlled, virtuosic guitars and weirdo keyboards to wide-eyed tales of alienation marked by a science-fiction geek's disdain for the "normal" world. "Gossip" exudes death rock, while "Anything" nods to the East LA punk of The Plugz, where "Unable" recalls Lydia Lunch no wave and the minute-long "Computer Date" predicts today's online dating culture in a mishmash of The Minutemen and Kraftwerk. Though less psychotic, the EP tracks take a more progressive turn with longer songs and more complicated song structures, showing the direction the quintet would have taken had they lasted beyond the sessions. It's early Devo insanity with the musicianship of Missing Persons.
After all this time, Suburban Lawns still sound as modern today as thirty-five years ago, making them one of the most unique bands to come out of the post-punk new wave movement. Grab this long overdue reissue and discover what you've been missing.
comments powered by