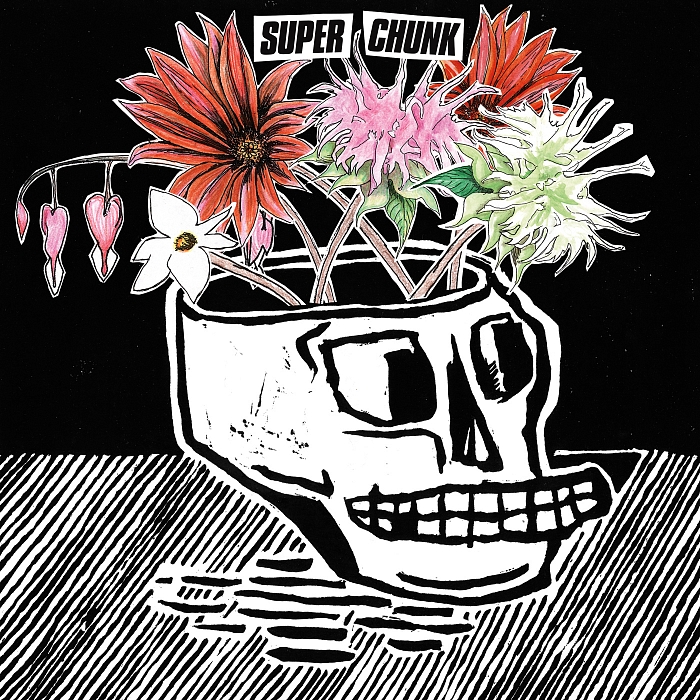 21 February 2018
None of the fury embedded within Superchunk since inception escapes them after decades of playing together; if anything, Mac McCaughan occasionally sounds like Geddy Lee giving punk a try. Of course, when you're singing of the current administration's follies, it doubles as a preventative measure taken to ensure the absence of fatigue in addition to the motive behind their newest LP What a Time to Be Alive. Knowingly, the titular opener explodes with Jon Wurster's concussive stomp and smooth onslaught of hi-hat—an in media res beginning to the affair that recalls the breakneck frequency of our nation's recent tickertape of atrocities.
They have given no reason to be dubbed a political rock group until now, and although it's a face they wear with a moderate degree of success, perhaps it will not be one which fans wish to persist. While Superchunk have always worn consideration on their sleeves, the present lyrical consternation simultaneously mourns a lightheartedness found in "Hyper Enough" or even the subtlety of "Martinis on the Roof." Then again, one has political zeitgeist to account for as well as its effect on music. The adamantly surreal Deerhoof released their first overtly political album in the initial year of Trump's reign, and in its effort to create a unified affront, they felt compelled to invite several guest performers; another first for the band. Even the perennially indirect Yo La Tengo have a new record on the way titled There's a Riot Going On. Coincidence? Certainly not. The outraged response is immeasurable in genre alone, sparking participation from many who in past years had not raised any trace of a stink. Remember too that Superchunk had remained largely dormant during the Bush era.
There's a bifurcation that comes with assessing the merits of an album of this distinction: its typical properties are separate from its revolutionary ones. Like concept albums that freckle artists' discographies from time to time, it can be hard to hear them under the same mode as any others. Hitherto, the foursome has turned in excellent documents of playful anxiety, passion, and the rare elegy here and there. But forget small footnotes like Come Pick Me Up being "the one with the horns and strings" or On the Mouth as "the first one with Jon." Time will forever be viewed under the microscope as "the political one," which is a potentially distracting caveat for any artist, yet anyone from Joey Bada$$ to Bruce Springsteen have been able to own that descriptor while allowing said work to fit in comfortably with their standing repertoire.
Musically, it's a little less than standard fare for Superchunk. Some punkier numbers like "Lost My Brain" and "Cloud of Hate" are composed with proper reservations made for ire, but come off soberly in delivery, likely due to the ennui that both permeates and incentivizes the record. Guests with idiosyncratic vocal patterns like Katie Crutchfield and David Bazan get washed out and made unrecognizable amidst the wall of sound. The only one with their head floating above the water is Stephen Merritt in "Erasure," thanks to his infamous bass croon being so forward in the mix, if you're into that sort of thing. There are some moments of the band's elements working at one-hundred percent. The titular opener and closing "Black Thread" make for exhilarating bookends, pairing malaise with resistance in a brilliant, fitting marriage. McCaughan's guitar solos skyrocket when put on display, and despite the defeatist notions behind their message, those notes have never sounded more triumphant.
Time doesn't hold to any formal manners with their sentiment—one whose intent is to assert commentary on the state of affairs rather than plug ideas and ideals. It is beleaguered; more of a fed up laundry list than a "revolutionary" one. In "Lost My Brain," they state their (as well as the disgruntled populace's) thesis: "I surrender to the flow of shit that came aboard last year/I didn't learn anything from it and I lost count of all the shame." It's a feeling shared en masse. In a way, so much of the aforementioned outrage is indebted to the sheer loss of answers, let alone words for such bullshit. So in that sense, Time is a far more apt address than the one Donald Trump issued in January; it's a State of the Union of the people, by the people, for the people.
You may purchase the record here.