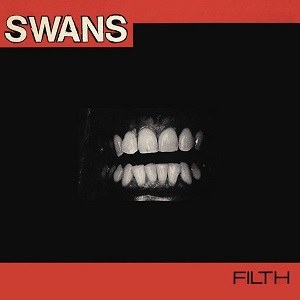 22 May 2015
"But I already have this stuff," you say. Guess again, Billy.
When Swans debuted in 1982, there hadn't been anything like them and, come to think of it, there still isn't. Their twin-bass-fueled urban tribal grind went beyond punk, free jazz and experimental music to evoke a brutality most of us would rather ignore. Eventually, they documented their aural assault on a rare self-titled EP (Labor, 1982) and then on their debut LP, Filth (Neutral, 1983), which fully captured the essence of their savagery. This fully remastered three-disc set compiles Filth, the rarities/outtakes collection Body to Body, Job to Job (Young God, 1991) and that first EP, along with some blaring live performances, into a single package.
Admittedly, Filth and Body to Body were reissued together by Young God (bandleader Michael Gira's label) in 2000, and the first EP appeared on CD with Filth in 1990, but this is the first time all these releases have been packaged together, making this the definitive collection of Swans nastiness between 1982 and 1984. The first two discs are the 2000 reissue, complete with a 24-minute live performance from '82/'83, but the third disc contains the self-titled EP and previously unreleased live recordings from CBGB in New York and Heaven in London. Everything has been exquisitely remastered for sheer ruthlessness.
Swans are back, pummeling a new generation with their unique sonic punishment, but this is where it all began. Kneel down, feel the fist and submit because, you not only deserve it, you like it.
comments powered by