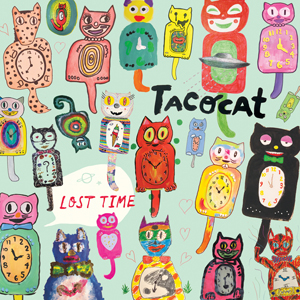 3 March 2016
Seattle's three quarters female garage/power popsters Tacocat are huge X-Files fans. From the band's name to the title of the album and straight on to their cute tune "Dana Katherine Scully", their reverence is self-evident. This is their third album, and it's produced by Erik Blood. The band refers to him as a 'wizard' in the studio, and he's brought some space to the band's droll and sarcastic noise pop. I must admit that this is my first introduction to the band, and I have missed out. Their lead singer is a ringer for Barbara Manning, and the instrumentation could be likened to a mix of The Ramones and Tiger Trap. They have also penned the theme song for the upcoming reboot of Powerpuff Girls.
Their straightforward and irreverent music is a fine balm for the darkness that invades the media (case in point: the current election coverage). So it comes as no surprise that "I Hate The Weekend" ('paint the rainbow shades of beige') is a firm favorite, followed by "You Can't Fire Me, I Quit", which channels a bit of 50s/60s girl group and throws it down with some spiky punk energy. For some reason, "Plan A, Plan B" reminds me of early Blondie (when they were good), and I love the handclaps on "Talk". "Men Explain Things to Me" is 1:58" of raw female energy and frustration with the male of the species. "Night Swimming" sucks you straight in and soon you are drowning in its massive hooks. The album is short (less than 30 minutes) and to the point. Highly recommended for fans of female-driven pop punk that doesn't take itself too seriously.
Look for the band's music here and check out their Facebook page.
comments powered by