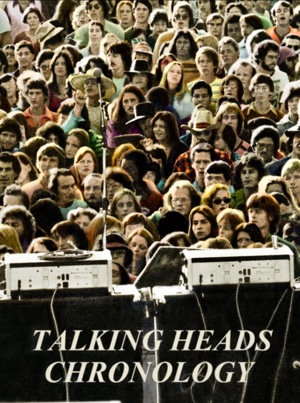 7 June 2012
Chronology provides a compelling and worthwhile overview of Talking Heads' career. Rather than trying to manufacture a narrative, the band's history unfolds organically through a series of musical nuggets – allowing the band to speak for itself. Still, it is clear that no available stone was left unturned when letting the story unfold. The DVD's first short segment is an early mic test from 1976, wherein David Byrne yelps into a microphone for his monitor engineer at NYC's The Kitchen.
The musical footage begins with black and white film from the venerable CBGB. Captured during December 1975, these performances feature the core trio of Byrne, drummer Chris Frantz and bassist Tina Weymouth. A performance of "Psycho Killer" features different lyrics than those ultimately captured on Talking Heads: 77. Byrne seems earnest, painfully shy and withdrawn at the microphone during the skittery "I'm Not in Love," making only the most fleeting eye contact with the crowd. Weymouth is focused and dispassionate. Frantz seems to be having fun, though. By contrast, he seems tightly coiled and alert, waiting for his chance to cut loose with a flurry of tom-toms. These characterizations hold true during footage from the following year at a show for a small but appreciative Kitchen crowd.
The music is augmented (although at one point, interrupted) in only a couple of instances by interview footage from outside of the band. Music mogul Seymour Stein describes being riveted by Talking Heads when he happened upon them at CBGB during an opening set for the freshly-signed Ramones. Bonus features, however, include a full-length 1978 interview with Byrne, and a more traditional documentary than Chronology itself from 1979. Fans will pore over the alternate audio track for the main film, with commentary from the entire quartet.
Multi-instrumentalist Jerry Harrison's first appearance here is from January 1978, as his keyboards augment a performance of "Don't Worry About the Government" on BBC live music show The Old Grey Whistle Test. By this time, Byrne is far more engaged, though still an undeniably quirky presence. Fan-on-the-street footage from New York City demonstrates a dramatic increase in the band's hometown cachet by late summer of the same year. By this time, the band is a tight and formidable unit, as seen during "Thank You for Sending Me an Angel" from the Entermedia Theatre. Franz still seems to be having the most fun. "I guess he's organically shy," says Weymouth of Byrne during a post-miming interview with Dick Clark on American Bandstand.
Further on, Chronology documents Talking Heads' exploration and ingestion of Afropop circa Remain in Light, with a frenetic performance of "Crosseyed and Painless." Byrne seems looser and more self-assured among an expanded, nine-piece line-up including stunt guitarist Adrian Belew and funk keyboardist Bernie Worrell. The band's peak of MTV-era pop success is toasted with a performance of "Burning Down the House" on Late Night with David Letterman. The timeline runs all the way to the band's reunion performance of "Life During Wartime" at their Rock and Roll Hall of Fame induction. It's a thrill to see the band reunited, even if Byrne blows a couple of the song's most memorable lyrics.
comments powered by