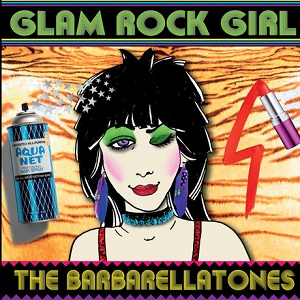 8 July 2015
Glam rock surfer goth weirdos, The Barbarellatones, return with a new album that finds songwriter Robbie Quine delving into his darkest territory yet.
Glam Rock Girl finds the sardonic humor that has come to define the band taking a back seat to more serious subjects. The regrets of drug abuse, aging and lost relationships now take the center stage of Quine's lavish Bowie-via-Rocky Horror production – his best to date. Layered instruments create a three-dimensional backdrop punctuating the emotional, yet witty, lyrics delivered with an equivalent passion. Gritty Carlos Alomar-like guitar solos add a bitter punch, while twisted background vocals comment on the stories with judgement. Even more lighthearted fare, like "Devil in Miss Jones" and the hillbilly honky tonk of "Varlene," betray an underlying sadness. The heaviness may be a departure, but it makes for excellent music.
As always, The Barbarellatones remain unpredictable, and that's their strongest trait. Dig into their unique psychosis, where trannies, trash and truth mingle in a psychedelic haze of pink flamingos.
comments powered by