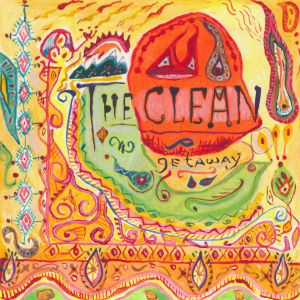 11 December 2016
The Clean need no introduction as they are a long established classic Kiwi pop band on the venerable Flying Nun label. This deluxe reissue of 2001's Getaway celebrates the album's 15th anniversary. The album is available for a first time ever double vinyl release that includes a bonus CD that compiles rare, tour-only releases of Syd's Pink Wiring System and Slush Fund. The album is also available as a double CD that includes the entire album plus the 19 bonus tracks. With that bit of housekeeping out of the way, let's dive straight into the music.
Right out of the starting gate, the great, laid back groove of "Stars" reminds me of The Clean's American brethren, Yo La Tengo. It might be the gentle, loping guitar and the equally calming vocals. It's a longish tune devoid of the spiky bursts of energy from their earlier material, but it speaks of a maturity from these guys.
"Jala" is a bit different, as it ushers in mysterious instruments tinkling in the background. There are random jags of sound and it's all a bit noodly and psychedelic. "Crazy" might as well have Ira and Georgia on board (who guest on "Circle Canyon" and "Alpine Madness"), so closely does it parallel that great NJ band. I mean this as the highest compliment, because I adore YLT. There is an unrestrained joy in this track, something I cannot really describe adequately. It is a compact tune with wispy vocals and a nice economy in the melody. Lovely! "Golden Crown" is beautiful folk pop, and it's far too short! I like the plink of the piano here too, the perfect accoutrement to this tune. "Cell Block No, 5" is a woefully short instrumental with horns and a winsome main melody.
"E Motel" is classic Clean with Robert Scott (The Bats) on vocals. With a strong melody and some nice backing vocals, this should have been a hit. "Twilight Agency" has a noirish aspect to it with thrumming bass and simple percussion. "Poor Boy" is sprightly psych pop, while "Silence or Something Else" is another sweet example of Kiwi pop at its prime. "Circle Canyon" is slightly batty and trippy, but even on stranger tunes, the band always manages to anchor things with memorable melodies. "Aho" meanders along in the best Velvets tradition, with appropriately psychedelic effects on vocals and guitar. "Holdin' On" is a slow boat ride on a gently twisting stream, full of dappled sunlight and good cheer. "Reprise 1 2 3 & 4" is an odd tune that throws bits and pieces of other songs into the fray, and it may remind you of the oddities on the Beatles White Album. "Complications" finishes off the first disk with David Kilgour taking the main vocal and Robert backing him up, and it has the fast paced, utterly delightful feel of their early songs.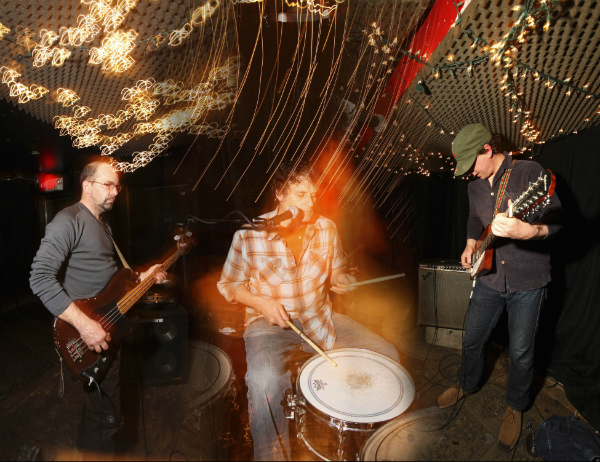 Photo by Tim Soter
Onward to the bonus material, all 19 songs! The press release says 18, but I have 19 in the download that Merge sent me. "Rollo (Slush Fund Version)" is all plinking piano and features David Kilgour doing a voice over. It seems like the band was having great fun with this, as they do on all these bonus selections. "Slush Fund (Slush Fund Version) is all of 46 seconds and just a continuation of the first song, albeit at a slightly faster pace. "Filling a Hole (Slush Fund Version)" should have had a regular release before this, as it's a prime slice of Kiwi pop. "Caveman (Slush Fund Version)" sounds an awful lot like The Chills (never a bad thing), probably due to the omnipresent organ. The piano driven "Point That Thing Somewhere Else" is a cool artifact, a Clean song that made its first appearance on their 1981 EP Boodle, Boodle, Boodle. It is well worth repeated listens, for the driving bass is still intact and retains its classic status.
"Wipe Me I'm Lucky (Slush Fund Version)" has Linus-styled piano (not joking, really dig it) and appears in a different version on Unknown Country. And whoa, "Fish (Slush Fund Version)" is amazing, just as it was when I first heard it elsewhere. There is tons of fury and pent up energy in the usual gentle currents of The Clean's music. I also think the watery psych guitar is rather neat. "Quickstep (Slush Fund Version)" had me clapping along with its driving beat, and bravo if you make it through 8:42 minutes. This is exactly the sort of extended jam that YLT likes to toss in every so often, and forgive me for the band comparisons. These are both bands I admire greatly, so I cannot help myself.
"Fish (Syd's Pink Wiring System Version)" is not different enough from the aforementioned bonus version except maybe it's a bit louder. "I Wait Around (Syd's Pink Wiring System Version)" is an excellent departure from the already great version on Vehicle. This has a bit more of David's always great guitar playing and Robert does a cool lead vocal here, with David's backing vocals. "Hold on to the Rail (Syd's Pink Wiring System version)" first appeared on Odditties in 1983, and is a pleasant but less essential song. "At the Bottom (Syd's Pink Wiring System Version)" is an intense 4:45 jam, with David showing off his prowess on guitar. "Do Your Thing (Syd's Pink Wiring System Version)" is just as good as the original on Modern Rock, albeit a bit slower in pace. "Side On (Syd's Pink Wiring System Version)" has that jaggedy guitar that David excels at, and is a fun, Velvets-inspired tune. The alternate Syd's Pink Wiring System version of "Stars" is noisier and less polished but no less effective. And finally, the alternate version of "Jala" is raw and jagged, just the way fans like it served up.
And so, after this exhaustive walk through of Getaway, I can say that it's well worth picking up, both for current fans and for listeners new to the Flying Nun sound. Highly recommended!
Catch up with the band on Facebook and pick up the album at the usual outlets or directly from Merge Records.
comments powered by