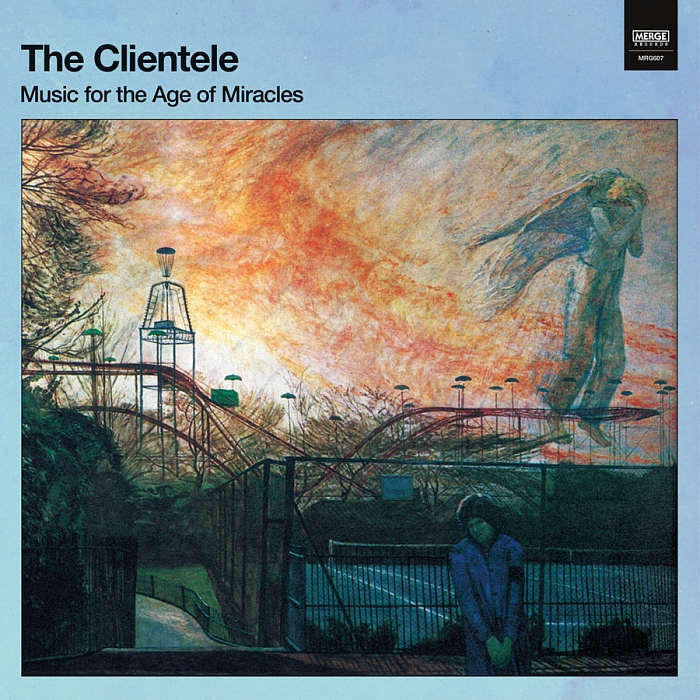 9 October 2017
Since their graduation to hi-fi, The Clientele have coincidentally stopped making essentials. Suburban Light and The Violet Hour are permanent documents of sophisticated pop. Something about the first two records' fog-induced echolalia compliment the songs neatly, adding either the perfect saccharine touch to "(I Want You) More Than Ever" or Gothic menace to "Porcelain." Strange Geometry and the records that follow still bear some of the band's greatest hits, but they're far more scattershot than what came before. Somehow, the clarity coincides with passivity. Their latest record Music for the Age of Miracles proves that they are still inarguably capable of elegance, but occasionally lapse into obscurity, or even worse, a retreading of old ground, playing into a law of diminishing returns.
Take "The Museum of Fog," for example, an attempt at recapturing the vibe of past cut "Losing Haringey" via the similar confines of its predecessor with spoken word storytelling backed by instrumental pleasantries. Only this time, something's off: the narration appears rushed, like the speaker is fighting to fit the story within the runtime, as if it's been allotted. There's nothing landmark about the former's lyrical content, which reads like a live-streamed journal entry of a poetic yet otherwise unremarkable day, but its nuanced and melancholy conceit works. It's middle-tier for the catalog, making "Fog" all the more confusing and idealess for having revisited in the first place.
The uninspired interludes "Lyra in April" and "Lyra in October" could have undergone a much wiser sequencing – the earlier of the two immediately kills any momentum brought about by opening track "The Neighbor" – though they have no staying power in any right and resemble the less crucial work of Alasdair MacLean's side project (for good reason) Amor De Dias.
The album is not without its high notes. "Everything You See Tonight Is Different from Itself" plays like a smart blend of the intricate fingerpicking of Bibio and the rocking inclinations of an At War with the Mystics -era Flaming Lips. MacLean's legato arpeggios reverberate like harps culled from an attic, still pristine in condition, underlined by delicious fuzz guitar root notes – as distorted as the band has dared to go since the unexpectedly rocking solo section in "E.M.P.T.Y." So much of their sound is indebted to the restraint of drummer Mark Keen. His steady, transporting ride cymbal work on a track like "Constellations Echo Lanes" still insists on keeping their dreamy strengths alive and well; a portal to late night pondering.
Music is technically a reunion album, though not in the way that anyone would care to mention. 2010 gave us the respectable mini-LP Minotaur, followed by an indefinite hiatus. That same year, we saw This Is Happening from LCD Soundsystem and Forgiveness Rock Record from Broken Social Scene, which would also be their last recorded works for the same amount of time. Differences in clout aside, The Clientele's return is much less bombastic because of their consistency, which simultaneously helps and hurts them. Even the most skeptical of diehard fans wouldn't expect a genre-shifting upset from the quaint Londoners, nor would they brace themselves for a redefinition; the latter of which is of complete needlessness so long as the songwriting stays fresh, which sadly ceased several albums ago. Singles "Everyone You Meet" and "Lunar Days" both hit the mark of fine enough, but rehash their forebears with disappointing accuracy, down to the point of recognizable chord progressions. Music is further testament that they will continue to be relied upon, for an encroaching sense of worse than better, as time persists.
You may purchase the record here.