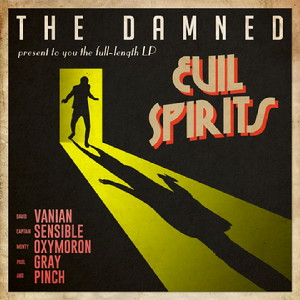 8 April 2018
Evil Spirits is The Damned's first album in a decade and the result of successful crowdfunding. It's been well around the block in terms of reviews, so I am not exactly late to the party as the album doesn't drop until 13 April, but there are plenty of scribes out there who beat me to the punch. I may not add any new insights, but I can tell you it's a highly melodic release with huge hooks and the usual amalgamation of punk, garage, goth, and psych that the band excels at. They've been doing this way longer than most bands, having released the very first punk single "New Rose" back in 1976. That counts for a lot in these days of short attention spans and selfies, and they've never rested on their laurels. The album was produced by legendary producer Tony Visconti and was created at Atomic Sound Studios in Brooklyn last fall and includes Black Album and Strawberries era bassist Paul Gray back in the fold.
Singer Dave Vanian twists and snarls his words and occasionally croons like a less demented Julian Cope. Witness the cool shiver of "Devil in Disguise", with its intelligent lyrics and dynamic music. The band sounds terrific all throughout the record. Pick your least favorite political pretender and this song could be about any of them. And you gotta dig the Farfisa organ doing time with fast moving percussion and Captain Sensible's smashing guitar playing. "Standing on the Edge of Tomorrow" has creepy percussion slithering underneath the supremely catchy melody. A disembodied backing chorus adds the perfect haunted house element to the mix. "We're So Nice" sounds like late period Cope, and naturally I find it enchanting and fun. "Look Left" is a grand slice of orchestral pop, and the dramatic sweep suits the band. I especially like the vintage keyboards on this tune. Great work! The title track is retro and modern all at once, a tiny throwback to bombastic 70s and 80s rock meshed with modern, clean production.
"Shadow Evocation" is a widescreen, evocative tune with charming Goth elements, huge hooks, and the fast tumble of piano. Kristeen Young also sings guest vocals at the song's end, and it's the perfect way to end things. "Sonar Deceit" is about whales and dolphins beaching themselves because of sonar, and it's a sad tale but a great garage stomp. "Procrastination" is all groovy Farfisa organ and percolating bass and beats, and considering the long period between albums, it's a fitting and funny tune that is my favorite of the set. You can't miss the anger and frustration in "The Daily Liar", despite a melody dipped in honey. "I Don't Care" is the album's final lament, and it's gloomy and pensive. And then mid-song, it unexpectedly kicks into high gear! To conclude, this is another great album from a veteran group of rockers and is not to be missed.
Catch up with The Damned on their home page and over on Facebook.