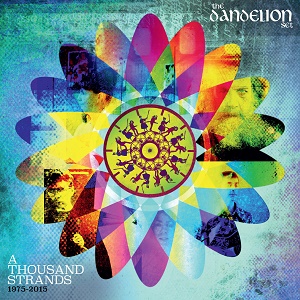 18 April 2016
Having collaborated in several bands over four decades, Glyn Bush (Lightning Head, Rockers Hi Fi) and PK Chown (James Beige, Mr Liquorice), aka Julius Vanderbilt and Sinjin Makepeace respectively, celebrate their friendship with a new band and an off-the-wall debut that combines their quirky sense of humor with innovative musical precision.
Recalling the oddball sensibility that permeated The Who Sell Out, A Thousand Strands seamlessly weaves psych pop, electronic krautrock, prog, lounge and jazz into a fascinating unified sound. At times, the group sounds like a blend of Air and The Soft Machine, while, elsewhere, the Goblin-esque "Cosmic Variations" and Heldon leanings of "Harps Ascend" push further into intensity. Comic writer Alan Moore (Watchmen, V For Vendetta, From Hell) not only provides the liner notes, but also vocals for the Burroughsian "Judy Switched Off the TV," as well as elements from Another Suburban Romance, an ill-fated Brechtian '70s theater piece written with Jamie Delano that conjures Return to Forever. Other guests include vocalists Hannah Ylitepsa and re:ni, horn and woodwind player Cornelia Flybody and string arranger Tim Perkins. It's an astounding collection of talent for an equally astounding collection of songs.
Psychedelia exists in many forms, but The Dandelion Set have successfully created their own version, exquisitely documented on their stellar first offering. The next release is eagerly awaited.
comments powered by