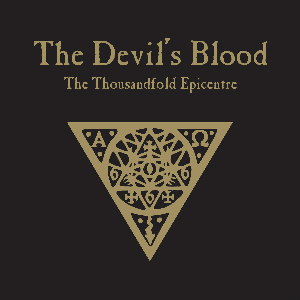 17 January 2012
In certain circles, The Devil's Blood's The Thousandfold Epicentre may stir up debate: are they Satanists or aren't they? Songwriter/instrumentalist Selim Lemouchi claims he and sister/mouthpiece F (just F) fully believe the power of the Dark One enriches their lives – indeed, he argues that they are merely the conduit for Luciferian musical musings. But in the same breath he'll also admit to a sense of humor, though it's not nearly as broad as the one that runs through their Swedish brethren in Ghost. For her part, F delivers the lyrics with near-stentorian conviction. So who – or what – is kidding who here?
Given the craft and power on display, it arguably doesn't matter. Downplaying the acid rock/folk experiments that lightened up The Time of No Time Evermore, the group's previous LP, Lemouchi streamlines the music into soaring hard rock. "Within the Charnel House of Love," "Fire Burning" and "On the Wings of Gloria" boast a singalong momentum that grows out of the Blood's indisputable mastery of the form. The orchestral guitar arrangements, not to mention real strings in the epic title cut, lend these Mephistophelesian hymns surprising warmth without sacrificing the pounding drive. There's little relief until near the end, as "Everlasting Saturnalia" and "Feverdance" float in space for most of their runtimes, allowing F to croon prettily instead of declaim operatically.
There's an odd mini-movement of bands like this – Blood Ceremony, Sabbath Assembly and the afore-mentioned Ghost all truck in various degrees of darkly alternative spirituality and early 70s hard rock. (Who knew Black Widow's 1970 occult rock LP Sacrifice would become such a sacred text?) The Devil's Blood is at the forefront of this strange crowd, however, and the excellent The Thousandfold Epicentre makes no bones about why.
comments powered by