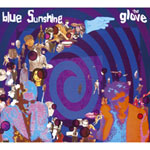 10 November 2006
An '80s cult classic returns in deluxe form. The Glove (a Yellow Submarine reference) was a one-off collaboration by ROBERT SMITH (THE CURE) and STEVE SEVERIN (SIOUXSIE & THE BANSHEES), plus vocalist JEANETTE LANDRAY (girlfriend of Banshees drummer BUDGIE), who sings the majority of the songs on the original album.
While some tracks do recall The Cure, most are more psychedelic, with koto, sitar, dulcimer, strings, and a drum machine expanding the sound. Blue Sunshine's been out of print for awhile, so any return would be welcome, but this is quite special. Three bonus tracks (two B-sides and an extended mix) had already been added to the original 1983 LP's tracks on a previous CD edition; now they are joined by another two.
But it's the material on disc two, all available for the first time, that will have fans salivating, because when the album was originally released, Smith was only allowed to sing on two tracks. Now we get to hear his vocal demos of all 10 original tracks and an additional four songs, plus two instrumentals.
In all its demented glory, this is bound to be one of the top reissues of the year. I just wish that Smith and Severin's 1981 collaboration "Lament" (recorded for Flexipop magazine) had also been included. There's also supposed to be a TV performance of the album's most memorable song (by far!), "Punish Me With Kisses," with the core trio plus Cure bandmates; that would've been nice too. Still, this is one welcome package.
comments powered by