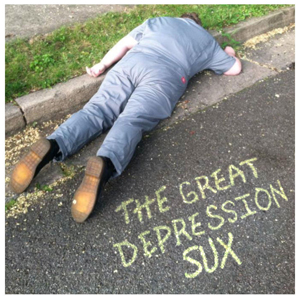 18 January 2016
The Great Depression – Sux (Independent)
North Jersey is not an inspiring place in the world. Of course, I have limited experience, having toured through small cities in various bands over the years. I never spent more than a day at a time there. As with all kinda depressing places to live, the kids dream just as much harder to rise above the brutal grind of their daily survival. We played with these kids once in a New Brunswick basement called Lady In The Radiator and we were bowled over by the beauty, strangeness and intricacy of their music. The best known band out of the area of late is the shreddingly awesome Screaming Females , who birthed from the same dusty basements to become popular on the ever-challenging output of the Don Giovanni label, who also released amazing music by Black Wine and Downtown Boys among others.
There is a more muted scene emerging in that tangle of highways and hills that speaks more strongly of the sadness and isolation, that flowers beautiful and desperate music of millennials striving to live freely under the tired twilight of the crumbling future they have been dealt.
Ben Luckman has been a self-deprecatory yet consistently talented force in this pool of new bands. After LITR's demise, he put some compelling solo efforts out as Nice Life and here has returned to a band format with The Great Depression . The first EP Sux grabs you immediately with "Purple Skirt", a casual guitar riff that loops laconically until the singer begins what is one of the most arresting melodic lines I've ever heard. Her voice is pure, self aware and unadorned and you are hooked immediately. The music moves through fuzzed post rock bridges that build up intensity into sublime but short peaks, resolving into the simple but so so effective bridge.
"Win Some" drones an interlude like early Set Fire To Flames reveries, then the album segues into "Lose Most", an obtuse and heavy-lidded meditation that bubbles nocturnally, lithe and simple, while delicate harmonies spread sorrow over the syncopation. This is very young music, but the sound of a youth that knows what lays ahead and refuses to succumb while still acknowledging the doubt and the immense sadness of living in our time.
We lift the mood slightly with another instrumental segue, the upbeat lilt of "If Algernon Never Gets Back Together We Are Just Going To Keep Hearing Shitty Twinkle Songs From Shitty Twinkle Bands". The final salvo of this perfect EP comes with a lift of optimism, a slice of sun piercing the greasy gloom, "Cash Out", which just shines in it's simple and swaying melodies and glorious fuzzed guitar overture.
If this is what "emo" has become, praise the fucking music gods that these kids really know how to turn their emotions into living, breathing beauty in song. Beauty that can only come from pain and crushing struggle, you hear the tears, joy, depression and hope in every well placed line. A curious and sublime band that will leave you breathlessly awaiting what comes next.
comments powered by