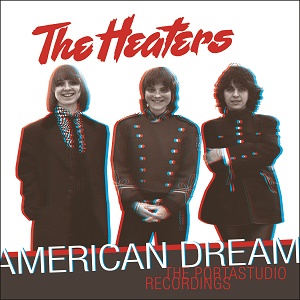 9 August 2016
After two failed albums, Los Angeles new wavers The Heaters felt disenfranchised by record labels, producers, studios and the industry in general. Liberated by the newly emerging technology of 1983, the female core of the group – powerful vocalist Mercy Bermudez and multi-instrumentalist songwriting sisters Maggie and Missy Connell – turned to home recording and a Phil Spector girl group sound for an elegant, graceful collection of songs that would finally see the light of day thirty-three years later.
American Dream opens with the title track, a cyberpunk ballad about a robot love interest (possibly Robbie the Robot?) that drags the early '60s into the early '80s. Elsewhere, "Every Living Day" and "10,000 Roses" draw from doo-wop, while the latter invokes a Beatles influence in the bridge – a trait that also appears in the guitar solo for "Love Will Be Hurrying to You." The Shadow Morton-esque melodrama "Sandy," as well as the raging Heart-like "Rock This Place," blatantly explore the complications of gender identity three decades before it became a household conversation. It's the sound of three women recording their own songs on their own terms and loving every second of it.
Phil Spector actually heard the recordings and ended up working with Mercy for a while. Rhino thought it was a good demo, but wanted the songs re-recorded. The Heaters kindly declined. Finally, the songs are available as they were meant to be heard: analog, lo-tech and exuberant in the discovery of recording. Joey Ramone would have loved it.
comments powered by