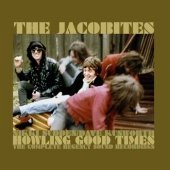 6 October 2009
The JACOBITES – AKA the singing/songwriting partnership of STONES and FACES worshipping rock & rollers NIKKI SUDDEN (R.I.P.) and DAVE KUSWORTH – are rightfully renowned for their shambling, decadent, almost swooningly romantic albums from the 80s, crowned by the sprawling masterpiece Robespierre's Velvet Basement. Less celebrated are the reunion records the pair made in the 90s, but that might change with this remastered reissue of the group's 1993 comeback Howling Good Times. Joined by a strong backing band, the duo carried an excellent sheaf of songs into the studio and recorded what may be their most accessible album.
The production sparkles, the songwriting shines, the singing is sharper than usual and the record simply hums like a finely-tuned pop/rock engine. Shifting allegiances from Stonesy rawness to an almost lush folk rock sound dominated by acoustic guitars, TERRY MILES' organ and piano and Kusworth's fragile vocals (Sudden has his chances to shine, but takes a back seat to his partner here), the Jacobites are at their most melodic on this LP. From the country rocking "Older Women" to the magnificent pop singles "Can't You See" and "Don't You Ever Leave Me" and the gorgeous "Flying" and "Chelsea Springtime" (featuring longtime band associate MAX EDIE – AKA LIZARD – on co-vocals), these are the some of the most out-and-out catchy songs the band has ever done. Not that the group's previous work was difficult, but here the focus really does seem to be on getting audiences to sing along, and that ain't a bad thing at all.
The first disk adds related extras, including single mixes, an elegiac reprise of "Don't You Ever Leave Me," a lovely alternate version of "Flying" called "All My Life," and the B-side "Traveling European Blues," which crackles with rockabilly fire. The second disk has another album's worth of tunes, both old and new, recorded in subsequent years for the album Old Scarlett and the compilations Hawks Get Religion and Heart of Hearts (the latter put together for the Spanish market and subtitled, naturally, The Spanish Album). Highlights includes Sudden's anthemic ballads "The Rolling of the Hearse" and "Liquor, Guns & Ammo," Kusworth's hyper-romantic pop tunes "That Girl" and "She Belongs to You" and Sudden's smarmy rocker "Penicillin." The band's worst sentimental instincts rear their heads on a soggy remake of "Heart of Hearts," originally recorded to much better effect in 1984, and the DVD of studio tomfoolery and "guide vocal" versions of songs are of interest only to absolute diehards. But those are tiny flaws in an overall excellent package that rescues, improves and restores the reputation of a classic in the catalog of a still-underappreciated band.