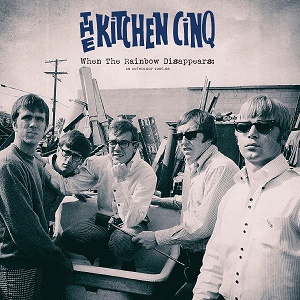 26 August 2015
In 1966, an Amarillo, TX group called The Illusions moved to Hollywood, CA and auditioned for Lee Hazelwood, who declared them his first signing for Lee Hazelwood Industries under the name The Kitchen Cinq. Fifty years later, the band's entire recorded repertoire is finally available for the first time in a single collection.
While not quite as gritty or freaky as revered Texan acts like The Thirteenth Floor Elevators or The Red Crayola, When the Rainbow Disappears documents a band striving to combine the beat garage ethic of The Beau Brummels with pop vocal harmonies a la The Association. Wild stompers like "Determination" and "Young Boy" brandish the edge of their home state contemporaries, while "The Street Song" and "I Am You" reside in the orchestral pop popularized by The Beatles on Sgt. Pepper's Lonely Hearts Club Band. Covers, of course, were de rigueur for the time, providing the North Texas quintet an opportunity to successfully redefine Buffy St. Marie's "Codine," Neil Diamond's "Solitary Man" and The Hollies' "I Can't Let Go," as well as The Beatles' "Run For Your Life" as The Y'alls and Them's "Gloria" under their original moniker of The Illusions. It's the perfect synthesis of garage edge with pop aesthetic, i.e., just fuzzy enough for street cred without becoming saccharine sweet in the pop vocal delivery.
They never became a household name and they broke up after tireless years of frustration, but The Kitchen Cinq recorded some incredible music in their brief three-year existence. Tune into one of the best bands you've never heard of and revel in their explosive Nuggets sneer.