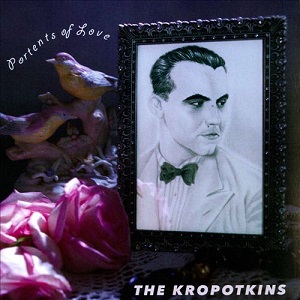 16 April 2015
Six years after the release of their third album, Paradise Square, Memphis-via-New York-based country/blues group, The Kropotkins, return with their fourth.
Portents of Love infuses the sneer of punk into Delta folk and blues. Right away, "The Moon's Already Down" sets the stage with a tribal march featuring vocalist Lorette Velvette in her most maniacal caterwaul. From there, "Fred Goes out at Night" and "On the Wall" burn the barn down with foot-stomping revelry. Covers of Mickey & Sylvia's "No Good Lover" and Bill Monroe's "Stoney Lonesome" explode with authenticity, while Woody Guthrie's "This Land Is Your Land" and "Clara" from the Gershwin/Heyward-penned Porgy and Bess transform with artistic integrity, the latter becoming a solemn blues where the former takes on a Caribbean feel. It's a record made by people who simply love playing together and making extraordinary music in the process.
It may take them a while to release a new record, but the resulting collection of songs more than makes up for the wait. Get lost on the dusty country road of The Kropotkins for a spell.
comments powered by