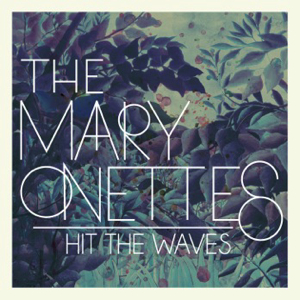 14 March 2013
After two albums of land and air, framed by exquisite borders and lit by internal fire, The Mary Onettes, Sweden's most elemental pop group, have at last reached water. And unlike the dry guitar and drums of American surf rock, Hit the Waves is absolutely drenched. That makes it a somewhat more remote pleasure than either their essential 2007 self-titled debut or its 2009 follow-up, Islands, which sounded more weightless and pretty at first but ultimately revealed itself as a result of the same sharp songwriting and carefully structured melody of the debut. After a few weeks of listening, Hit the Waves doesn't shake that same initial impression, but that's not a disadvantage. "Lost," from the debut, is maybe the most repeatable song of this century (it's easily my most played; when I remember my time on Earth, I need only remember that song's transition to the coda), partly because all its dizzy moves were so quick to absorb. Hit the Waves, on the other hand, is slippery and ungraspable, repeatable because of the itching need to get closer to it.
The band is well aware of a shift in their sound and the necessity of its inauguration: Hit the Waves is another ten-track album but the first one to devote one of those tracks to an ambient intro. We arrive at a serene seaside lightly touched by voices, a faraway and ultimately ineffective vision (except as a means to clear the mind, to reset) as the album begins to chart its own course with dark and elegant lead single "Evil Coast." Gone are the first album's hallmarks: The Cure, The Lucy Show, The Teardrop Explodes, Duran Duran (bands I invoke as much for The Mary Onettes' similar sense of emotional scale as for their sounds). It's funny that the same band that released the best set of aching, romantic pop songs during the appropriate years of my youth should make their adult pop album just as I've jettisoned my post-punk idols in favor of Fleetwood Mac's Tango in the Night. But, considering that this band never really chose its influences, but earned them by a consistent audacity of feeling, it should come as no surprise to discover Tango as one of this album's closest sonic predecessors. It's not hard to imagine Christine McVie singing over the pulsing bass and soft keyboard punctuation of "Years," in particular.
But instead of McVie, Philip Ekström sings. His charm as a frontman never had much to do with a vivid presence, and he's even more distant here, his vocals clipped by a fadeless array of buzzing, pulsing sounds. His voice is subdued, wavering (hmm, there's a useless genre tag embedded in those two words, though I wouldn't accuse The Mary Onettes of indulging that wave), while also easing gracefully into the album's more anthemic choruses. It's tempting to call him withdrawn and misunderstood, but that might just be another false read on an inaccessible personality. Still, I've always suspected there's something coded and forbidden in his words and pronouns, a mind-your-own-business kind of personal revelation that nobody's done so well since Morrissey (or even imagined as possible in the age of all public everything). Call it an exquisite musical rendering of E.M. Forster's Maurice. "I'm the void and you can fall into me now," Ekström sings on the first album's "Void." Then, continuing his catalog of the unspoken on Islands, the beautiful "Cry For Love" implies, without quite depicting, the ways that one lover's mother and the other's father might bring unwanted feelings into a relationship. This time around, the title track contains the album's great romantic metaphor: "I'm not gonna break if you let me stay inside your beating chest," emphasis on the words "break" and "beating," which the music soon echoes. Given the unprecedented clarity of artists' personal lives these days, it's a startling and beautiful thing to learn that someone's love might still hide in the ocean. "I'll meet you in the waves," he sings, clearly unable to imagine any other setting. We still don't know much about these loves, except that they're tender, overwhelming, and oppressed. It's always been that way with this band, but they're only now writing it in water.
After just a few albums, it seems as if Ekström has said all he intends to say, or not say, about love, and certain aspects of Hit the Waves give it the air of a retirement LP. The last song is called "How It All Ends," with those words sung in the long, soft notes of an abstracted, elegiac melody. Earlier, there's a song called "Don't Forget (To Forget About Me)." Whether or not it's a response song to that famous fist-raising anthem of the 80s, its clever reversal signals a loss of The Mary Onettes' original Simple Minds punch (so evident on the debut), but also reclamation of that band's early rhythmic strength and flexibility. Hit the Waves alternates between a number of different kinds of beats, from twitchy and stop-start ("Black Sunset") to dense and circular ("Evil Coast"), but in all cases the songs mark a disturbance of the straight tom pounding of "Lost." Last year's Love Forever EP contained a song called "Love's Taking Strange Ways," with a sophisticated, jerky rhythm that suggested The Police, and all kinds of possible new directions for this band. Hit the Waves doesn't contain anything at that level of rhythmic irregularity, and while it does pretty steadily follow a promising new direction, it can sound more like a long retreat than a major advance. But that's more a description than a criticism, since even at this band's jagged young beginnings, their greatest appeal was that they kept so much under the surface. "Oh no, I've said too much, I haven't said enough," someone sang in 1991, but his confessional stalemate wasn't a reason to give up then, and it needn't be one now.