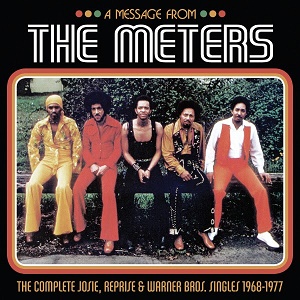 26 October 2017
New Orleans funk originators The Meters never saw mainstream success but are continually revered for their unique contributions to the genre. Now their story is told on three LPs through nearly every single 45 rpm record they released in the near-decade of their original incarnation.
Message serves as a documentary of The Meters' career. Early sides reveal a Stax Records influence, specifically Booker T. & the M.G.'s, before tighter grooves evolve from proto-funk to the instrumental funk they became known for on Josie Records, all presented in their original mono mixes. Eventually, their notoriety made the major labels take notice and they signed to Reprise with a slicker stereo sound and a stronger emphasis on vocals that celebrated the joy of their home city. Their career ended in the wake of disco, their final singles acting as feeble attempts at dance club hits.
The Meters deserve every accolade they receive, and if you're looking for an introduction, this is the perfect way in. Old fans, of course, will scramble for the rare tracks that haven't been available on vinyl since their original release. Whatever your entry level, turn it up and enjoy one of the finest bands New Orleans ever produced.
comments powered by