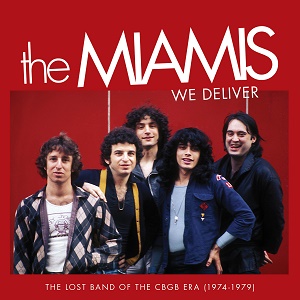 25 January 2016
Just when you thought you were intimately familiar with every band to grace the CBGB and Max's Kansas City stages in the late '70s, another one emerges from the echoes to completely reorient everything you thought you knew. Led by brothers/guitarists/vocalists James and Thomas Wynbrandt, The Miamis were the band all the other bands went to see. Now, for the very first time, their music can be heard outside the shadows of long gone Lower East Side rock'n'roll dives.
We Deliver absolutely does. Culled from various sessions, some produced by Craig Leon (Ramones/Blondie/Suicide) and Genya Ravan (Dead Boys/Ronnie Spector), as well as an excellent soundboard recording from CBGB, it tells the story of a tough band who weren't afraid to show a softer side. Gritty New York Dolls-style rockers alternate with Phil Spector-inspired ballads, as musings on French art and overpopulation intermingle with Dictators-esque celebrations of pizza parlors and pop culture icons. It's the street art of inspired youths driven by the desire to overcome the bleak reality of their neighborhood.
Where every other band that ever graced the stage of a certain Bowery dive bar has been immortalized in the annals of punk – even The Mad are revered by certain uplifting gormandizers, The Miamis have been tragically ignored. Well, now it's their turn damn it, so dance, clap and sing along with a past that will never reanimate.
comments powered by