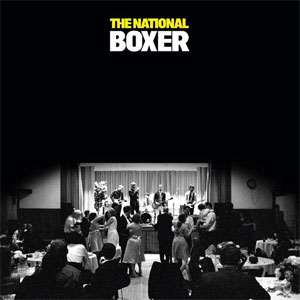 26 May 2007
After the spectacular success of Alligator, can THE NATIONAL follow up? You bet. All the thrumming tunefulness and enigmatic lyricism returns (the lyrics filled with even more foreboding and dread now), with some new twists.
Australian composer PADMA NEWSOME (CLOGS) helps out, giving a new sound to some tracks: The horns on "Fake Empire," "Brainy," and "Ada" and the strings on "Squalor Victoria" bring to mind Sufjan Stevens's recent prog-rockness, with the minimalism of "Ada" another Sufjan echo. Quieter tracks include "Start a War," gorgeous yet insistent.
Some guitars on "Mistaken" stick out as very Sonic Youthesque; there are similar sounds in other songs, but more buried in the mix. "Apartment Story" suggests a fuzzy cross between the Velvet Underground and New Order with its distortion, throbbing bass, rigidly driving beat, and prominent organ part. The forcebeat drumming is perhaps slightly more aggressive and prominent; MATT BERNINGER's low-key vocals remain absolutely riveting.
comments powered by