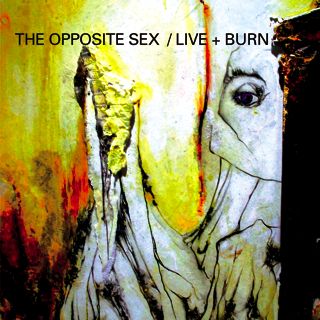 14 August 2009
Washington D.C.'s The Opposite Sex return with a dynamic EP, Live and Burn. Opening the record, "Frozen Heart/Frozen Mind" crashes to the fore with the punk raucousness and nihilistic abandon of early T.S.O.L. DENNIS KANE's riffs are sharp, classic, and cut to the bone, while SHAWN HELTON's vocals rip into the track, building from thoughtful and expository to a feverish urgency punctuated with the swampy reverberations of minimal surf guitar. "Arctic tension hides/Stalking me inside/Standing still in ice…Becoming polarized" he sings, readying us for the frosty, anxiety-ridden lyrics that haunt the rest of the album. Whether pleading, damning, railing, or contemplating, Helton is capricious to the point that the listener is always held in infinite suspense, wondering how his vocals will drive the adroit musical transformations from moment to moment.
From the first song, it's clear that the band does not have too many studio tricks up their sleeves. The production on this record captures the sound of some of my favorite classic albums without sounding dated: In the place of endless effects is earnest, melodic post-punk with bite.
While the title track is not as musically intriguing as the rest of the EP, it still has The Opposite Sex's usual emotional vibrancy. "Is That You?" resurrects the bright, muscular sound from their previous release, Violent Heartstrings (reviewed here), and "Thread" exemplifies the strength of PAUL BERNARDI's bass lines with one particularly atmospheric and ominous line that drives the song's intensity.
In the end, Live and Burn comes to an explosive close with the best song on the album, "Another Big Bang," an all-consuming epic built on frozen Phrygian sounds. "Sometimes the ice is just not worth breaking," Helton intones as Middle Eastern-tinged tonalities snake through DAVE SVRJCEK's dynamic drums, escalating the drama in this exquisite maelstrom. Think "Kashmir" meets The Cult's "Phoenix," and you'll be getting warmer.
Live and Burn is adorned with a painting by Helton, who recently displayed his work at D.C.'s yearly Art-O-Matic Festival after a ten-year hiatus from showing. Other pieces I've seen of his also have the same shiver-inducing Schiele vibe that's heavy on texture and contrast (much like The Opposite Sex's music). I do hope this combination is a new trend for the band, as they have finally found the imagery to match the power of their sound.
For you lucky ones in the Nation's capital, the CD release show for Live and Burn is August 15 at The Black Cat. However, New Yorkers can get their fix of The Opposite Sex on September 25th when they pay us a visit at Greenpoint's Coco 66. To see this stuff performed live will be a real anarchic pleasure.
comments powered by