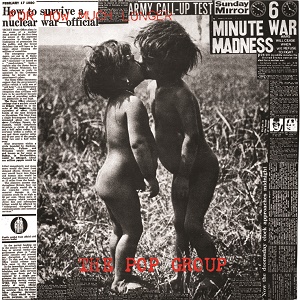 16 February 2016
Originally released thirty-six years ago, The Pop Group's scathing sophomore effort receives its first proper reissue, unleashing their confrontational post-punk defiance on a new generation of budding revolutionaries.
Despite its age, For How Much Longer screams as loud now as it did in 1980. Coming across as a contorted blend of Crass and The Birthday Party (a group they heavily influenced), The Pop Group brazenly use their instruments as weapons to attack the corruption and hypocrisy of the powers that be. Vocalist Mark Stewart wails with the psychopathic fury of Iggy Pop on The Stooges' Funhouse while twisted, syncopated rhythms set the pace for a maniacal anti-militaristic march. Funk, dub and free jazz collide with punk passion and krautrock experimentalism, breaking down boundaries as soon as they are made. Adding to the chaos, "We Are All Prostitutes," originally intended for inclusion on the album, but released as a 7" instead, has been properly reinstated. The long lost video for the song has also been uncovered:
Recently, The Pop Group got back together and released the excellent Citizen Zombie, but this is where their legendary status solidified. Turn it up and feel the rage of dissent.
comments powered by