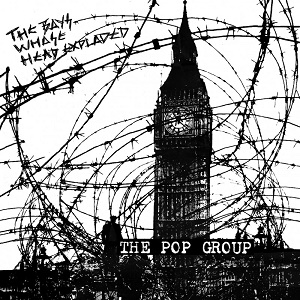 23 May 2016
Continuing on their well-received resurgent wave, The Pop Group dig further into their vaults of previously unreleased material for an official "bootleg" of volatile live performances recorded around Europe between 1979/80.
Primarily drawing on songs from For How Much Longer Do We Tolerate Mass Murder?, The Boys Whose Heads Exploded rages with syncopated fury, immediately kicking off with a rendition of "We Are All Prostitutes" that captures all the insanity of The Stooges' Funhouse. Stuttering funk beats give way to overdriven mutant dub as the band lays waste to the stage with such passionate intensity that Nick Cave would later acknowledge to be a major inspiration for The Birthday Party. A particularly noisy cover of Glaxo Babies' "Shake (The Foundations)" and the sprawling, previously unissued dub-infused epic, "73 Shadow Street," round out the collection.
A short film by iconic punk filmmaker Don Letts will accompany the release digitally with the vinyl and as a DVD with the CD version. This never-before-seen archival footage shot in 1980 at an all-day festival at Alexandra Palace captures the raw, unbridled energy of the group onstage in a way that can't be documented solely by audio. The band remains in constant motion – jumping, dancing, gyrating to their music with a frenzy that few bands before or since could match. By the end of the seven minutes, you're worn out just from watching them.
While live albums aren't always the best representation of a band, it's the perfect platform for The Pop Group. By their very nature, you're never likely to hear a song played exactly the same way from one recording to the next. It's a trait that continues to make them one of the most unique bands on the planet.