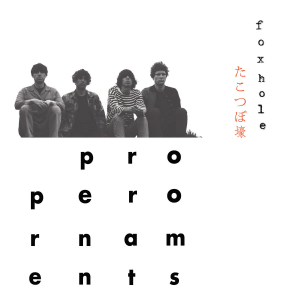 15 January 2017
It's always a great pleasure to review anything associated with James Hoare of Veronica Falls. And he's been a busy lad, performing with The Proper Ornaments and Ultimate Painting both. All these bands are worth your time, as they delve deep into psych pop and their love for The Velvet Underground. And once again, on James' outing with musician Max Oscarnold, they have created a winning collection of medium tempo songs, sunny melodies only partially disguising the moody lyrical content. I have great affection for Veronica Falls and consider it the best of the three bands, but it appears that band is no more. But we are left with these wonderful tunes, deceptively simple in construct but far deeper than they appear on the surface. The band went through tough times, with friendships being frayed and tracks being hopelessly warped due to technical glitches. However, with Daniel Nellis and Bobby Syme joining on bass and drums, the band recorded again from scratch at James' studio (with the exception of the single track they managed to save from previous sessions, "The Frozen Stare"). It all appears to be so easy and laid back, when we know it's not. The band has stripped away distortion and extra layers and offers listeners a seemingly straightforward suite of songs, but nothing is quite as it seems. Themes of homelessness, divorce, and personal losses drift through these tunes, pulling the listener along for the ride.
"Back Pages" gives a nod to Dylan/Byrds, yet chooses its own musical path. It's evocative and lovely, yet envelops listeners with a patina of sadness. "Cremated (Blown Away)" is straight ahead psych pop with a strong VU component with the guitar way up front in the mix. How a song with such a title can be almost sprightly is anyone's guess. But James and Max have a penchant for doing this very thing, again and again. I love the ringing guitar that joins the main rhythm guitar line, so simple yet so elegant. "Memories" is the first single, and the piano subtly reminds me of Procul Harum (as do the lyrics, 'a whiter shade of gray'). It is redolent of loss and faded photos, and the straight ahead arrangement suits the song well.
"Just a Dream" fades even further into the backdrop, with lovely, hushed vocals adding to the overall atmosphere of the song. Though one wonders if the dream is actually a nightmare, given the band's penchant for exploring the dark crevices of the mind. "1969" is as expected, a paisley-tinged, piano-driven slice of excellent psych pop with a baroque finish. The keyboards are gorgeous, and the way it all hovers like a mirage is wonderful. Easily my favorite track on this understated album. "The Frozen Stare" is the only song from the original recording sessions, and it once again features piano in the foreground. It could almost be a lost John Lennon treasure, something discovered in an abandoned box of vinyl and lovingly restored. Wonderful indeed!
"Jeremy's Song" has its fair measure of 1967 baroque pop influence, albeit with a modern spin on production. It is from this song that the album gets its title, and I find myself sighing and relaxing as it surrounds my senses. With lovely keyboards and acoustic guitar along with James' pretty vocals, it is far too short. "When We Were Young" sure reminds me of Pink Floyd circa Wish You Were Here, at least initially. It won't set your senses on fire, but it will evoke memories of great old music. "I Know You Know" has the sort of acoustic drive that reminds me of Exile on Main Street. It could be the swaying rhythm, or the hint of slide guitar, but whatever it is works well. Finally, "The Devils" closes down the record in grand and proper fashion, once again decorated with a light dusting of piano along with some really swell harmonies. I like the hint of buzzing strings (though it may well be synths filling in that sound) and bright washes of guitar. It's a fitting end to this pretty but somber release, and is yet another addition to this band's already great body of work. Highly recommended!
Pick up the album direct on Bandcamp and catch up with the group on Facebook.
comments powered by