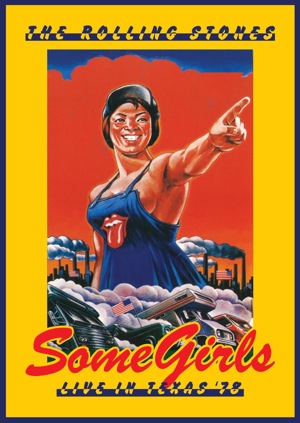 11 December 2011
Although I'll stand with fans who contend that the Rolling Stones have reliably planted at least a gem or two on even their least popular albums, I'm also in agreement with those who consider 1978's Some Girls to be the band's last truly great record. The chart-topping album proved that rock was still relevant in the age of punk and disco, while incorporating a sense of the former trend into tracks like "Shattered" and the latter on the enduring single "Miss You."
Live in Texas '78 captures the Stones near the close of their North American run in support of Some Girls. The tour included many stadium dates, but this film captures a performance at a relatively intimate arena performance before a lucky crowd of 3000 at the Will Rogers Auditorium in Fort Worth.
Some reviewers are calling this show a complete triumph of form and a crown jewel for the Stones. It isn't, which may have contributed to this footage sitting in the vault for 33 years. Mick Jagger flubs early in the set during the second verse of Chuck Berry's "Let it Rock", and Keith Richards' guitar playing is not exactly what you'd call tight toward the beginning of the show, even on the well-traveled "Honky Tonk Women." But there's no denying the electrical charge and barely contained mayhem that emanate from the Rolling Stones once they get cooking. Jagger, in particular, seems to kick himself into high gear with a feral performance of "Shattered" and the slinky "Miss You."
The long stretch of Some Girls material during the middle of the set finds the band digging in particularly hard. The Stones are visibly focused during "Shattered," following drummer Charlie Watts to nail the song's rapid-fire changes. The band's cover of the Temptations classic "Just My Imagination" is reverent but spirited. A truly masterful version of the fresh "Beast of Burden" is appropriately laid-back, but has a wicked sting.
Guitarist Ron Wood, bassist Bill Wyman and drummer Watts may not receive the lion's share of glory, but they provide the fuel to the keep the rhythm and blues machine humming. The stoic Wyman provides an utterly reliable groove to songs like "When the Whip Comes Down" even with two of his fretting fingers in a splint. Keyboardists Ian Stewart and Ian McLagan bring genuine soul to the mix.
Though Jagger and Richards seem to keep their distance much of the time, Jagger and relative newcomer Wood mix it up often, providing some great moments onscreen. The pair share Jagger's microphone during the raunchy "Star Star" and mug their way through Richards' "Happy." Wood raises both goosebumps and blisters with his slide guitar during "All Down the Line," while his pedal steel during "Far Away Eyes" is cheeky and emotive. Richards riffs hard on "Brown Sugar," and uncorks his best solos on Chuck Berry-styled fare including "Respectable."
Of the film's seventeen tracks, seven are drawn from Some Girls. It's worth remembering that "Miss You" was the band's final #1 hit in the United States. Live in Texas is a great time capsule from the last time the Stones' flame burned its brightest.
Welcome bonus features include a recent interview with Jagger discussing his memories of the tour and album, including the threat to the Rolling Stones caused by Richards' 1977 heroin bust in Toronto. Footage is also included from the band's 1978 appearance on Saturday Night Live. Jagger gives outsized, wardrobe-destroying performances of "Beast of Burden" and "Shattered" despite his voice being utterly shattered itself. Ron Wood and Richards trade elastic, wiry leads during "Respectable."
comments powered by