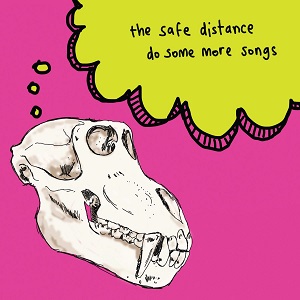 24 July 2015
Intercontinental mod-psych supergroup, The Safe Distance, follow their stellar debut 7" with a full-length that shows the group becoming more focused in their mission.
While still centered on the core members of Crayola (Sarandon, A Witness) and Stewart Anderson (Boyracer, 555 Recordings), Do Some More Songs features additional help from Stephen O'Neil (Cannanes), who replaces his former bandmate, David Nichols. Still lo-fi, the noise tones down a bit in favor of mod punch a la John's Children, The Small Faces and A Quick One-era Who, along with a marked Kinks pop sensibility. Aggressively strummed guitars attack alongside antagonizing organs and tough, drawling vocals, like a scooter charge on a group of unsuspecting rockers. "Sugarmay" and "Foxglove," on the other hand, contrarily keep the squealing feedback alive with a defiant sneer. It's all rounded out by covers of Saxon's "747 (Strangers in the Night)," which sounds more like Radio Birdman than heavy metal, The Human League's "Empire State Human" reenvisioned as -like garage rock and a three-minute squelching psychedelic version of Wire's "Outdoor Miner."
Now with their sights set on a destination, The Safe Distance are free to stay the course or take a left turn at a moment's notice, leaving us to enjoy the ride as it happens.
comments powered by