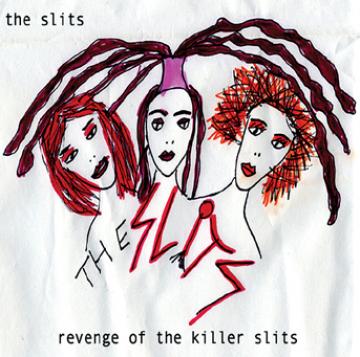 23 October 2006
25 years after THE SLITS' previous recording, original members ARI UP (vocals) and TESSA POLLIT (bass) team with ADAM & THE ANTS/SIOUXSIE & THE BANSHEES guitarist MARCO PIRRONI, bassist CHRIS CONSTANITOU (could this possibly be bouzouki player CHRISTOS CONSTANITOU?), and SEX PISTOLS drummer PAUL COOK, plus noted jazzman/avant-gardist STEVE BERESFORD (returning from their second album, actually; credited here on "instruments," which is about as vague as possible). VIV ALBERTINE is absent, alas, and her jagged guitar skronk is missed; former drummers PALMOLIVE (now born-again) and BUDGIE (and, for that matter, BRUCE WILLIE SMITH) also do not return, but certainly Cook is beyond capable! This is a one-time lineup; a revamped version with Up, Pollit, and three new members is gigging.
"Slits Tradition" paradoxically sounds utterly contemporary, with its electronic rhythms; Slits tradition being change and exploration. "Number One Enemy" offers powerful 1976-style punk not in nostalgia but because they really have been playing this song for three decades, though not on either of their two full-length studio albums. On the 1978 original-lineup recording Live at the Gibus Club (Sanctuary/Castle) that came out last year, it's titled "Enemy Numero Uno"; this time it's not in danger of falling apart, nor interrupted by Up berating a bouncer. "Kill Them with Love" revamps a song from Up's solo album of last year, also with modern rhythms though nodding to the band's white-reggae past.
It would be pointless to get this wanting it all to sound like any of the band's past incarnations—fans should know by now to expect the unexpected. Is it great? No. Enjoyable? Absolutely.
comments powered by