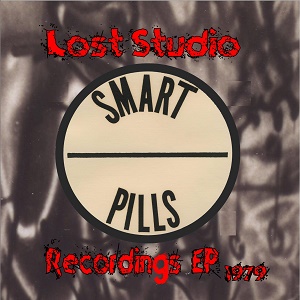 28 November 2016
Inspired by the scene happening around them along with punk rock from England, The Smart Pills formed in New York City in early 1978, but relocated to Topeka, KS after finding themselves completely destitute. They spent only three months in America's heartland, but sparked a punk rock movement there before heading to Los Angeles, CA, where they shared bills with Black Flag, Fear, The Weirdos, The Germs, etc. before finally folding in late 1979 when guitarist/vocalist Git Smart left for a major label contract. For the first time ever, their sole studio session, a demo recorded in LA August 1979, sees the light of day to encourage an entirely new generation of punk miscreants.
Lost Studio Recordings presents the perfect snapshot of a quintessential Killed by Death band, meaning they were there when it happened, but tragically never achieved the notoriety of their peers. These four songs filter the Ramones/Heartbreakers/Sex Pistols/Clash dynamic through a prism of Middle America that actually resonated in Southern California. "Person to Avoid" kicks things off with a Johnny Rotten sneer driven by a three-chord Ramones attack. "Brainwash" follows, effortlessly combining The Heartbreakers with Brian James-era Damned. "Yankee Doodle Boy" continues in the same vein, proving emphatically that this is the best LA punk band you've never heard, while "What Did You Expect" finishes with a Clash/Jam punch. It's everything you want from early punk and more synthesized into only twelve and a half minutes.
The Smart Pills didn't last, but their music still resonates to the socially awkward disaffected youth that sought out the magical alternative of punk. Turn it up and remember.