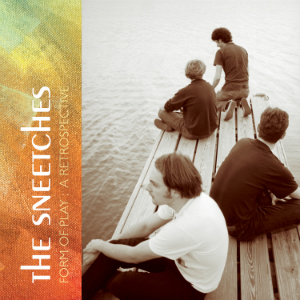 29 April 2017
San Francisco power popsters The Sneetches produced one of the coolest albums from my younger years, the brilliant Sometimes That's All We Have, which contained the notable and amusing tune "Another Shitty Day" with its scratchy vinyl intro. It was definitely an anthem for a generation of slackers, and still holds true today in our disillusioned society. That tune does not appear on this retrospective, which traces the band's history from 1985-1994. Liner notes are contributed by Sneetches bassist Alec Palao. This retrospective includes remastered selections hand-picked by the band, and it draws on the group's recordings for Creation, Alias, Bus Stop, spinART, and other labels, with rare mixes and five previously unreleased cuts. The band formed in 1985 by Mike Levy and Matt Carges, punk veterans who decided to indulge their love of highly melodic power pop (think Zombies, Easybeats, Big Star) in the age of grunge and hardcore.With the addition of Englishmen Daniel Swan (in 1986) and Alec Palao (in 1988), the lineup was complete and began to perform around the Bay Area.
I hear so many things as I parse through these songs, all of them memorable in that timeless way that great 60s songs had on me. I also hear echoes of modern artists like Sloan, Fountains of Wayne, and The Posies. I am sure that is because all these bands have similar influences and all grew up with the same records in their collections. Where do I start? There are 22 songs here and they all resonate. And on some level, it makes me sad, because here is yet another fantastic band that didn't make a dent beyond the usual outlets. "And I'm Thinking (Single Version)" reminds me the most of The Posies. Perhaps it's the sublime vocals and harmonies, and the wonderful melody and tuneful guitars. It's a killer tune, and I find myself playing it repeatedly. "Voice In My Head" has a joyful punk energy mashed in with horns and a sing along chorus. Shades of The Turtles and Zombies peek around the corner of this one, as Levy sings with tongue firmly in cheek. And what a voice he has, perfectly suited to this material. "Don't Turn Back" retains that classic feel, right down to the finger snaps and the warm harmonica. I love the keyboards here, as they add a baroque flourish that elevates the tune to something great. Just wonderful!
"Only For a Moment" also unfurls itself with ease, an acoustic number that has sharp lyrics and various nods to the Fab Four. The harmonies are brilliant, and I like the tasteful guitar solo winding around the acoustic strumming. "Julianna Why" is a delicate, acoustic gem with an enchanting melody that hits the sweet spot in my musical brain. Classic! I am running out of superlatives to describe the sunny, sparkling pop contained herein, though I do appreciate the light sprinkling of sarcasm laid down. "Behind the Shadow" has lovely keyboard work and a tasteful arrangement, and the vocals are great. "Take My Hand" ushers in a bit of Rain Parade era psych pop and marries it to some pretty horn work. One of my favorite songs on this collection, and apparently also a favorite of Creation label head Alan McGee. "Looking for Something" is sweet power pop laced with punky energy, while the moody "A Good Thing" is a complete change in direction. It's music for a rainy Monday in the gloom of winter. The organ driven psych pop of "Empty Sea" is a song I'd forgotten about, but as soon as I heard it, I remember it as an old and oft played favorite. It's always cool to rediscover lost gems! There's also some swell slide guitar on here. "Let Us Go" is bongo-infused chamber pop, and it's fun. "Unusual Sounds" is brilliant pop, and another old favorite of mine! It's like long lost treasure, or an uber cool Monkees tune that's been rediscovered. And hearing it, I scratch my head and wonder why this wasn't a hit, and instead, we have to listen to all the horrible dreck on commercial radio. This would be right at home on a classic rock station.
The live tracks here reveal how good The Sneetches were in a concert setting, and all were previously unissued. They are solid and essential offerings for fans, though not quite as mind melting as some of their classic melodies. The set closes with a home demo, "How Does It Feel". It has a nice, grass roots feel to it, and the winning melody and warm harmonies make it something special. In summary, this is a special collection of songs, and while it might not contain everyone's favorites, what it does offer is a look at a band who deserved far more appreciation than they received. Absolutely essential for all Sneetches fans!