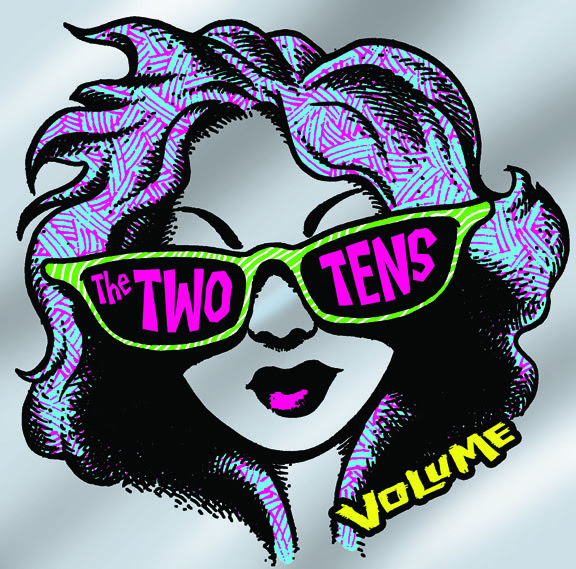 28 February 2016
The White Stripes played up their ambiguous relationship with wilful misdirection and myth building. Were they or weren't they? Kind of a hackneyed schtick. Romance and intrigue don't figure into The Two Tens' rock union. That mushy stuff is too basic. The colorfully monikered Adam Bones and Rikki Styxx are more overt in their intentions: They want to rock. And rock they do.
Dig, if you will, this imaginary scene. Impossibly tall, rail thin and sporting a massive Rob Tyner afro, Bones slinks into a small Hollywood shindig. A mainstay of LA's rock scene, the lanky frontman is starting a new project. He spies Styxx across the room. She looks like a beach-girl-gone-bad and radiates charisma. Bones approaches and gives her the pitch. She sizes him up. Sounds good. The pair skips formalities and proceeds directly to plotting their ascendency. Remember, kids: Origin stories work best when unencumbered by facts.
Volume, The Two Tens debut full length, on the other hand, is a verifiable killer. The opening pair of bashers, "Scene" and "Ella Don't Like My Hat" parade their hooks and attitude like impudent schoolchildren. Guitars gnash, snares rattle, Bones sneers, and somewhere Rodney Bingenheimer's ageless heart beams. The album introduces itself as a punk platter with Detroit overtones, but Volume pulls a bait and switch with the Raconteurs style melodic twists of "Watching Me". From that point on, the duo reveals the breadth of their ambitions and record collections. Check out the Dandy Warhols -esque intro to "Breathe" or the EODM style falsetto on "You Can Have it All." "Dreams" resembles a vintage Sloan track, while "I Can't Win" condenses everything good about Screeching Ghoulie Weasel Muffs style fuzz punk into two minutes and seventeen seconds.
Like his retro punk forebearers, Bones plays the lonely lothario with a heart of gold. He belts out "Sweet as Pie" like a caffeinated Joey Ramone circa Brain Drain. Elsewhere, the gritty vocal mix – all overdriven mics and vintage slap-back – reveals a manic showman in the Jon Spencer mold. Behind the kit, Styxx crafts scene-stealing moments where less original drummers would coast on eighth note hi-hats and tom builds. Her bratty backups add to The Two Tens' don't care air.
Only hardened cynics expect their punk rockers to struggle. Still, a little toughening up on the road will serve The Two Tens well. On that note, don't hold it against Bones that he played Joey in a Ramones tribute act. Hey, some attend Berklee; others go to Rock 'N Roll High School. Also, if the duo's polished look and familiar tunes seem a tad contrived, remember, originality is not the endgame for The Two Tens. Bones and Styxx cherry pick all the best bits and serve 'em up in a new form. And like their predecessors, they look good doing it.
comments powered by