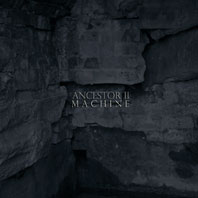 29 October 2009
Watkiss, who labels his music Dark Ambient, makes electronica that's all about texture, with no beats (though it's not bereft of rhythm), no harmonies (in the sense of chord progressions), and no melodies. The difference between last year's Ancestor Phase I: Silence and the present album is expressed not only in their titles but also their visual presentation, which has switched from sparse, backlit vegetation in a hazy glow to mostly dark pictures of decrepit buildings and barbed wire (albeit with one more bit of plant life). The music here is denser, heavily grounded in low drones; its thrums and buzzes are more genuinely industrial in tone than the Industrial genre ever was. The individual tracks are subtly shaped so that their ebbs and flows achieve a state midway between stasis and movement, exuding anticipation rather than action, as though vast forces have been observed and condensed for us.
This comes, at least while the deluxe edition stays in print, with a bonus disc, Live at Lydgalleriet, documenting a concert in Norway. This is much spacier, easily imaginable as soundtrack to a German art film (somewhat like a modern ambient electronic version of what Popul Vuh used to do for Herzog). If the two discs were tools, Machine would be a grinding wheel, Lydgalleriet a surgical laser knife.
This Friday night at 8 PM, Sound Fix will present an in-store performance by Thomas Watkiss, so if what's described above seems interesting, don't miss this chance to catch the man in action. His music can also be heard at his MySpace page and purchased at his website.