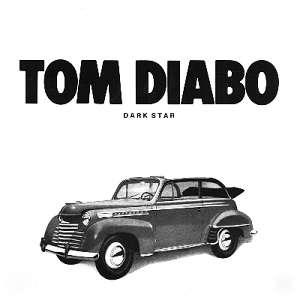 14 May 2015
While battling brain cancer that finally ended his life at the age of thirty in 1988, German punk, Thomas Eicke, aka Tom Diabo (Envelope, X-112 for Dancing, Western Force), recorded a series of extremely personal songs to 2-track that chronicled his thoughts on life, death and the short time he had to live. Originally released posthumously on Pigture Disc, Diabo's final statement finally sees a proper re-release including two songs that only appeared on a 7" privately pressed by his girlfriend.
Driven by a classic '80s drum machine, Dark Star is tragic, primitive and brutally honest. The music ranges from gothic new wave to Cramps-y swamp rock and even to dub reggae and blues, a testament to the Wuppertal musician's versatility. Throughout, his lyrics contemplate his approaching death, mistakes he made and the time he wouldn't have with his loved ones. Thoroughly engaging and heart-wrenching, it's an album made by a music lover for the simple fact that he had to do it.
Tom Diabo left the world way too soon, but, thankfully, he remains immortal in his art. Listen to Dark Star and commune with a fellow music lover from the great beyond.
comments powered by