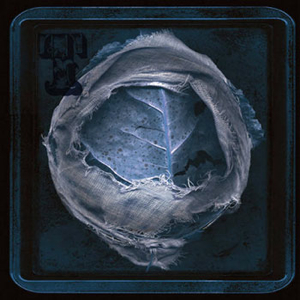 6 February 2017
For those still tentative about diving into this atypical, atmospheric Bristol, PA trio's 2016 fourth LP This Gilded Age, this double A-side 7" of two of its tunes is a tempting toe-dip. As is their custom, crooner Tom Murray's huffing, haunted vocals and Cheryl Gelover's heaving, hair-raising keyboards provide a forbidding framework for each song. On "Who Let You Know," Mitch Smith adds scratchy, subdued guitar, which squirms behind Murray's enfolding, firecracker-like popping drums and producer Richard Hartline's plinked piano. Meanwhile, "Don't Be So Sure" finds Smith's reverberating, rippling riffs more soothing and spacious, replicating deep-sea sonar devices and lulling lap steels. Murray's mystery-laced lyrics, and meticulous, mesmerizing stop-motion animation videos directed by Murray and Gelover for both songs (and three others from This Gilded Age: "Hold On," "Shooting Off the Set," and "Blinks First") online, augment the group's artistry.
Tulipomania – Don't Be So Sure from tulipomania on Vimeo.
If you've fallen under the spell of the single, you're in luck, as there's plenty more songs of similar, seducing quality on This Gilded Age. Here is my review of that album from issue 78: "Bristol, PA's tremulous troubadour Tom Murray doesn't tinker with the formula on his inimitable outfit's fourth LP, their first since 2011's The Whispering Campaign. His haunted, high-pitched vocals – resembling a panting phantom on a respirator – are still front and center, with his circuitous drum patterns and springy basslines weaving around his writhing words like spider webs. Similarly, Cheryl Gelover's sinister, steadfast keyboard swells threaten and torment, while Mitch Smith's gripping guitars, returning after a two-LP hiatus, are alternately scratchy ('Shooting Off the Set' and 'Blinks First'), submerged ('Don't Be So Sure' and 'On the Outside'), and shimmering (the Spanish-tinged 'So What are You Looking At?'). Like a ruined investor in the 1637 Dutch tulip market collapse that inspired the band's name, Murray's murky, mysterious music is again instilled with dread and despair." (sursumcorda.com, tulipomania.com, tulipomania.bandcamp.com)
The vinyl and CD versions of This Gilded Age are also available at CD Baby.
Tulipomania – Who Let You Know? from tulipomania on Vimeo.