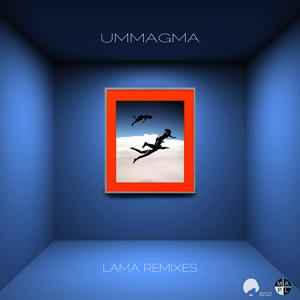 20 June 2014
Ummagma is a Canadian-Ukrainian duo who delves in dreamy synth pop with a modern and positive spin. Alexx Kretov handles composition, all instruments, arrangement and vocals, as well as recording, mixing, mastering. and video production. Shauna McLarnon deals with vocals, composition, lyrics and band management. Alexx is from Kremenets (Western Ukraine) and Shauna is from Whitehorse, Yukon (Canada).
The duo has been compared to Stereolab and Cocteau Twins, to name only a few. Truth be told, I'm not sure either of those is accurate. I've never been a big Stereolab fan, nor have I been obsessed with the Cocteau Twins, so perhaps I'm not the best contestant to play spot the influence. Really, this is music for communing with constantly rotating objects in motion, such as planets in orbit, or dancers spinning on the dance floor.
Lama is eight takes on the same song from 2012's Antigravity, and in some cases, the song is completely deconstructed to its basic elements. Vocals are almost completely removed in some cases, so songs inhabit completely different musical spaces. The pair worked with remixers such as Mind Movies, Irregular Disco Workers, and Sounds of Sputnik. All of them contributed something different to the mix, though I'd be interested in hearing what someone like Deep Cut's Mat Flint could come up with!
All in all, this is a fun bunch of mixes, throwing down both sprightly vocals and sparkling but chill synth lines, and though at times it's formless, it always heads in the right direction by song's end.
Check out the Lama video here:
Catch up with the band at these links:
Home page
Facebook
YouTube
Soundcloud
Twitter
Bandcamp