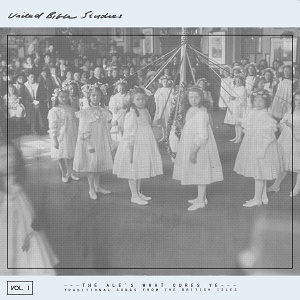 21 October 2015
Though the title boasts "Vol.1," Ireland/UK-based United Bible Studies have existed for well over a decade with an ever-changing lineup. Their new LP, limited to only 300, continues their tradition of experimental minstrel folk with a psychedelic edge.
The Ale's What Cures Ye breathes in the Smithsonian Folkways tradition of organic sound through live recording. "Blacksands" serves as the perfect opening – a quiet piano line joins viola and harmonium announcing the melodic drone to come – while the following "Farewell Nancy" nods to the medieval mysticism also heard in the epic "The Dalesman's Litany-The Burning Sea" and dramatic "Twa Corbies." Elsewhere, the approaching tide can be heard behind "Recruited Collier," and a fan seems to be running through "Sullivan's John." It all ends, though, with the gorgeous melancholy of "Waiting For Another Day" and "Ten Thousand Miles" where the raw emotion of bowed strings grabs your heart and pulls it down to a well of stark reality, reminding us that beauty is not always happy, and that elegance can also be rough.
Sometimes you need to get your hands dirty in order to feel something real. United Bible Studies know this all too well, so roll your sleeves up and dig in just to receive their gentle kiss on your cheek.
comments powered by