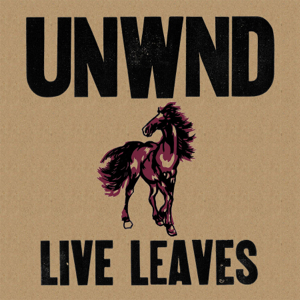 24 January 2013
In 2002, Tumwater, Washington's Unwound celebrated ten years together — and the release of its seventh and most ambitious record, Leaves Turn Inside You — by breaking up.
A decade on, the mercurial post-punk trio — singer-guitarist Justin Trosper, bassist Vern Rumsey and drummer Sara Lund — re-examines its sprawling swan song with a collection of choice performances from its final tour, presented here as the double LP Live Leaves.
More cerebral than heavy-hitting neighbors KARP, and related to Beat Happening by era and geography only, the Unwound sound — Trosper's dissonant riffs, Rumsey's busy rumble, Lund's methodical swing — mixed D.C. hardcore aggression, no-wave noise and rural Northwest weirdness.
While early LPs like 1993's Fake Train favored raw energy and over-it angst, the labyrinthine Leaves Turn Inside You — a home recording that took two years to complete — exchanged punk agitation for prog atmosphere.
Live Leaves' patchwork tracklist, culled from eight different nights in 2001, admits the shows weren't always consistent. The bootleg-quality audio, complete with clinking glasses and crowd chatter, is likewise imperfect.
Still, curious listeners will find the thirteen-song set reflects both the band's musical chemistry, and the scope of its vision.
Spooky, droning material like the expository opener "We Invent You" and woozy, harmonic-laden "October All Over" demonstrates impressive restraint. The seething "Terminus" is tense and dark, using organ, Mellotron and second guitar to cinematic effect. Loud-then-quiet epics "Scarlette," "December" and "Corpse Pose," from 1996's Repetition, are excellent syntheses of restlessness and patience, earlier and later Unwound.
The recent emergence of Lund's and Trosper's new groups, Hungry Ghost and Survival Knife, has ignited a groundswell of activity relating back to their old one. A reunion remains unlikely, but projects like Live Leaves and a new archival website show newfound interest in acknowledging a history still too under-recognized outside the '90s indie-rock realm.
Listen to Unwound's Live Leaves here.