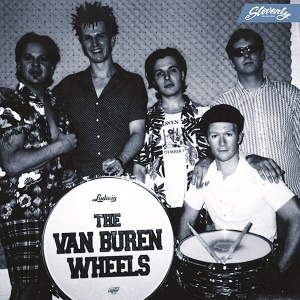 7 October 2015
Named after the street of ill repute where most of the cab-driving band members cruised to score their junk, Phoenix, AZ's Van Buren Wheels took their town by storm, started an underground garage scene and promptly imploded due to rampant drug use. For the very first time, the quintet's ultra-rare demo recordings get properly released, proving once and for all that their legacy lives up to their legend.
Van Buren Wheels draws from the numerous Nuggets and Pebbles volumes, as well as the entire Lyres discography, for inspiration. Six scuzzy garage rockers, punctuated by fuzzy guitar solos and sneering keyboards, attack from two brief sides of vinyl, begging the question, "Why the hell have I never heard of these guys before?" Two-minute stomps through girl drama, from the confident swagger of "C'Mon and Be Mine" to the witty take on jealousy in "(She Got) Green Eyes," lead up to the Animals-y ballad, "Soon I'll Be Gone," before returning to form with the Seeds-like "Wicked Lies." Four tracks were recorded to 4-track by a toothless former Alice Cooper associate, while the remaining two were produced by Jack Miller, who engineered The Rolling Stones' "(I Can't Get No) Satisfaction" and Neal Hefti's "Batman Theme," among many others. It's pure Sonics, Kinks and DMZ worship for every record-collecting, lusting loser who dreams of beating up the school bully and walking off with the girl.
Incredible bands spring up all the time, but dissolve before recording, even for posterity. Fortunately, Van Buren Wheels made it to tape and we can finally revel in their explosive debauchery twenty years later. Hell yeah.
comments powered by