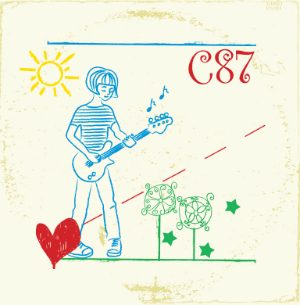 1 July 2016
What is C87, you may ask? We are all familiar with the C86 mail-order cassette from New Musical Express, the source of twee acts such as The Pastels. C86 also became a Cherry Red reissued and expanded box set in 2014. It was curated by the original compiler, Neil Taylor, and sanctioned by the NME. So you can look at C87 as a sequel of sorts, celebrating the 30th anniversary of the original C86. Neil Taylor once again does the honors, contributing extensive liner notes on top of a substantial booklet featuring illustrations of original record sleeves, flyers, and so forth. There are more than 70 tracks here, ranging from well-known artists to obscuro musicians making their debut on CD. None of the tracks here have been available on any of Cherry Red's recent compilations either. So you can view these three disks as a treasure trove of period music.
Disk 1 opens with "Pristine Christine", a really swell, jangle pop feast from Midlands band The Sea Urchins. It is immediately followed with the classic "Real Animal" from one of my all time favorite bands, the inestimable The House of Love. It has a memorable melody that grips you by the throat from start to finish. Simply brilliant!
This Poison's frenetic, fast moving "Poised Over the Pause Button" is rather indicative of music from the late 80s, but for their short-lived nature, the music they created was memorable. The Vaselines rock the retro, 50s sound on "Son of a Gun" and are known for having their songs covered by Nirvana. You may also remember "It's Not True" from The Wonder Stuff, who managed to hit the top 40 with one of their other songs. I like the buzzing punk pop on this 1:59 tune, complete with snotty sounding vocals. The Heart Throbs throw down the disgruntled "I, The Jury", with some bitter, twisted lyrics that somehow make me grin. If Glasgow band The Clouds reminds you of Teenage Fanclub, it's because Norman Blake lent a hand. You can expect chiming guitars and nicely sung vocals on this fine tune. The Shamen are usually associated with the dance dreck that made their name, but I am stuck on their great, overly psychedelic debut album Drop, laden with gems like the tune here, "Young Till Yesterday". Its filigreed keyboard washes and echoing reverb are way cool, and you'll want to drop down their lysergic rabbit hole and wallow in this music. "Spin (Flexidisc Version)" from The Darling Buds is like a punk version of Blondie, with a fast-paced tempo and honeyed vocals. Kitchens of Distinction need no introduction, and are still active today. "Escape" is the B-side to "The Last Gasp Death Shuffle", and both songs were included in NME's '100 Best Indie Singles Ever' in 1992. Hearing this cool song with dramatic vocals and strings meshing nicely with a percolating beat, you might be reminded of early Echo and the Bunnymen. It has the same razored edge to its prettiness that proliferated in early Bunnymen material. The Boy Hairdressers are none other than an early version of Teenage Fanclub, and you should know that this pretty 1987 song "Golden Shower" has all the hallmarks of tuneful power pop. Very nice!
Remember the swirling psych of Madchester scenesters the Inspiral Carpets? They were always an organ driven group, and "Now You're Gone (Demo)" is no exception, featuring some slow burning keyboards and an uptick in the energy on the chorus. "Albert Hofmann" is an over the top fuzzfest from The Bachelor Pad, stuffed full of trippy, skittering guitars and keyboards. Their debt to Syd Barrett cannot be overestimated. Blow-Up's song "Good For Me" is great psych pop that travels at light speed, spinning you in kaleidoscopic, flower strewn circles . It's all about the dancing and hopping you'll be doing when this hits your ears. Terrific example of this genre! Bob's tune "What a Performance" was favored by John Peel and is syncopated guitar with bright, cheery vocals. "Don't Ask My Name" is a high energy slice of garage rock from Hangman's Beautiful Daughters and is rather cheeky and fun. And the final tune on this disk is "My Baby's Got Jet Lag" from Mark E. Smith faves I, Ludicrous. It is spoken words over loud, punky guitar and stands out by virtue of its novelty.
On Disk 2, we have the cool "My Favourite Dress" from The Wedding Present, which hit the Top 100. It has the requisite sharp wit and power pop/punk energy you expect from David Gedge and company. I also dig the upbeat, buzzing "Hang Ten!" from The Soup Dragons. It has a bit of a Buzzcocks vibe about it, which is all to the good! "We Found a Way to the Sun" would fit in well with the surf, girl group/reverb trend we've seen in the past few years with Best Coast, and bands of that ilk. In this case, it's The Primitives doing the honors with this 1986, beachy single. Cowabunga! "The Anti-Midas Touch" has that mid-80s, jagged sound perfected by The Pixies, only in this case it's The Wolfhounds bringing it with claws and fangs out. "In a Mourning Town", culled from Biff Bang Pow's second album, takes a page from the Jazz Butcher playbook, with a heartfelt vocal and a jangly melody. And people on the scene when these songs first came out definitely remember the irreverent Pop Will Eat Itself, a name stolen from the NME. "Sweet Sweet Pie" is sweaty, good fun, a fast-moving tune that will have your toes tappin'. "Ask Johnny Dee" from the engaging band The Chesterfields have been compared to The Smiths, but they pave their own way with this tune about a fanzine editor. Razorcuts might not break any new ground with the lilting "I Heard You the First Time", but it's a darn good listen nonetheless. If the singer on "The Word Around Town" rings a bell, it's because it's David Westlake from The Servants. I like the psychedelic tinges to this nifty song, and the way keyboards and guitar skitter under and over each other with Westlake lording it over the mix with his cool vocals. Back in the day, I wasn't a big Railway Children fan, though I do remember the rather pretty tune "Brighter" and its resemblance to The Smiths. So I have to admit that I have now changed my mind about the band, because I saw them in May at NYC Popfest and they were terrific! In fact, it's fair to say they stole the show and entire event with a surprisingly great performance. So do check their music out, and catch them live if you can. "The Day Before Tomorrow" from Glasgow's B.M.X. Bandits is the Scottish equivalent of a Jonathan Richman song, from the sing song vocals to the simple and charming melodic structure. "Please Please Please" from Brilliant Corners carries no surprises, except the rather cool horns that buoy up what would normally be standard jangle pop fare. And then we have Baby Lemonade's fuzz laden tune "Secret Goldfish", produced by a member of JAMC. It sounds rather like something from that band, only with a girl group sound. The final tune on this disk is the lovely and unexpected "Southern Fields" from Rosemary's Children, who sound like they were transported in from the summer of '67. What a sublime song this is, with wonderful vocals and a memorable, Byrdsian inflected melody.
The final disk starts off with the weird "Catbrain Walk" from Dog Faced Hermans. It is discordant and reminds me of The Fall. "Tupperware Stripper" from Stump is equally strange, and sounds like a novelty song that Dr. Demento would dig. "Red Snake" from A Witness is another gonzo song, with heavily accented vocals and bog swamp guitar. 14 Iced Bears offers us "Like a Dolphin", and their vocalist is like a lighter version of Morrissey backed by a gentler Buzzcocks. "I'm Up Here" from Jesse Garon and The Desperadoes is more firmly in The Smiths camp, with a wonderful female vocalist floating over the edgy guitar work. "What Went Wrong This Time" from The Siddeleys has twinned vocals over bright, jangly guitar and is highly engaging. "In My Room" from Pete Astor's group The Weather Prophets is great, deeply mining that Velvet Underground vein and not far different from the recent solo album Astor released. What fun! "Beat Girl" from The Wishing Stones is not far different from Australia's Go Betweens, and I like its slow, dreamy cadence. Caretaker Race is guitarist Andy Strickland from The Loft, and his "Man Overhead (Demo)" also owes a debt to the Go Bees. It has a really nice, quick moving cadence and decent vocals. It was a real shame when Medway faves The Dentists split in '95, but they left behind an excellent body of work, including the cool "Just Like Oliver Reed", which reminds me once again how great a vocalist Mick Murphy is, with accomplished backing from guitarist Bob Collins, bassist Mark Matthews, and drummer (now deceased) Alun Jones. The super talented Phil Wilson (June Brides) penned "10 Miles", a riveting psych pop excursion with tantalizing violin. I also like "Her Father's Son" from East Village, which is a densely textured song with pretty piano. "Sharon" is a tale of unrequited love from ex-June Brides violinist Frank Sweeney of Yeah Jazz, and it has a rousing chorus and chiming guitars. The deep-voiced Ollie Jackson of Emily closes out the final disk with the trembling folk sweep of "The Old Stone Bridge".
All three disks are crammed full of classic pop, punk, psych, and folk laced tunes from a dizzying array of talent. You really can't go wrong here, and I say that after listening closely to every single track and reading every word of the generous liner notes. Highly recommended for old fans of the C86 era and new fans who dig this sort of thing.
You can pick up the box set at Cherry Red's web site and at other outlets.
comments powered by