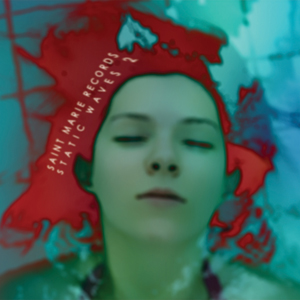 18 December 2013
I've been sitting on this uniformly great double CD for more than a month. I've reviewed and even interviewed a number of these artists and wrote a feature in Issue 73 about the cool guy who runs Saint Marie Records, Wyatt Parkins. Wyatt has a knack for finding artists whose music stretches across the sonic palette, and this is a compilation of many colors. Before I go all Joseph on you, let me say that the opening track, "We Run" by German band Seasurfer is the best song I've heard in the last month. It combines the elements of dream pop (think Cocteau Twins) and shoegaze (maybe a bit of Chapterhouse thrown in). And then it launches into Jetman Jet Team's excellent "Red Wind (Tokyo Mix)", which blows me away with its throbbing bass and keyboard lines. It dives right into the maelstrom of fuzzed out droney psychedelia, and continues tripping to the end. I love the whispered vocals sneaking in toward the middle of the song. Then we get the new single from Elika, "Moving Faster", the A-side of their latest 7", the first of three planned vinyl releases over the next year. At first I preferred the B-side of this single, but this tune has crept up on me (and wow, what a voice Evagelia Maravelia has) and now I can't get it out of my head. It is catchy enough for my dubstep era daughter to appreciate it.
Houston's Drowner does an excellent job covering Slowdive's "Hide Yer Eyes" demo, and the amiable sounding Orange Yellow Red give us "Time Slows Down". The first disk changes gears rapidly with the cool "Icy Daggers" from Nightmare Air, buoyed easily by the punching bass of singer Swaan Miller. Ambient guitarist/singer Andrew Saks, founder of Sway, has now gone out on his own to create dreamy soundscapes. The pretty "Farewell to the Hills" wouldn't be out of place on a Daniel Land record. Russia's Tip Top Tellix throw out a warm, gentle slab of pop ("So Beautiful Eyes") that is at odds with how I picture the frozen tundra. Young Boy consists of two brothers who used to be geographically distant and estranged, but the two reunited, settled in Brooklyn, and forged ahead with their love of old-fashioned synth pop, albeit with a modern sensibility. "My Secret Place" sounds like it could fit anywhere on the radio band during the past thirty years. Shortwave Broadcaster is the electronic project of Keith Canisius, and his love of artists like Tim Hecker and possibly Fennesz is obvious and very much appreciated by this Hecker fan. Hecker is known for his otherworldly and often psychedelic experiments in the ambient realm, and "Smile" slots neatly between these artists. broaddaylight is most reminiscent of the Cocteau Twins and the pretty "Three Light Six (2013 Lighter Mix)" continues in that vein. And gosh, "The Blessed Isles" remind me of so many great bands, sort of nodding back to the 80's but having much higher sound quality. Spin their "Round and Round" and see if you agree.
Reliably, Austin's Bloody Knives drop an intoxicating slice of noisy 'gaze in "Suffocation", too short to do anything but leave us wanting more. We also have the widescreen dream pop of "Frozen Echo" by North Texas group, Blackstone Rangers. The reverb laden guitar and echoey vocals veer into Still Corners territory, but the odd notes and creepy, funhouse organ are very Lynchian. And then there are my pals from Presents for Sally with a brand new tune, "Softly Spoken/Outside Honey". I hear retro wah-wah pedal and really dig Matt Etherton's vocal turn as well as the twists this song takes. Canisius pops up again with spacey synth-pop in "Meltdown", and "For the First Three Years" by Lilies from Mars is a strange but likable song with a dash of Bond intrigue and seems perfectly suited to a sci-fi western soundtrack. And oh, The High Violets, I just adore their lovely dream pop. Gravity is a previously unreleased track and I wonder why they waited so long to drop this gem on us. Some may also remember The History of Colour TV, a mysterious German band whose members remain shrouded in mystery. "I Knew it Was Wrong but I did it Anyway" hails off their debut album and is one of my favorites from that record. Spotlight Kid revisit us with their beautiful single "Sugar Pills" from their forthcoming album, and Chicago's Panda Riot offer "Good Night, Rich Kids" from their release Northern Automatic Music. Then as now, it's a fine tune from a solid group. Cloud From the Sea is a side project from Drowner's Anna Bouchard which allows her to explore 'timbral soundscapes' in songs like "Ever New". Anna's wonderfully smoky alto mixes with chiming melodies and leaves me eager to hear her full album.
The Spiracles is sparkling clean synth pop from guitarist Luis Rodriguez. His influences range from Aztec Camera to REM and I can sort of hear that. Finnish group Scarlet Youth trot out the grand "Note for a Stranger", filled with airy vocals and sweetly chiming keys. And of course there is the womblike warmth of Anna-Lynne Williams of Lotte Kestner with her gorgeous tone poem, "Ties that Bind". The hint of darkness in the melody elevates it to something special. And boy, I surely do like "In Vain" by Russian shoegaze band, The Patience. Give me more like this lovely confection, please! Carta's elegant "It's Always As It Always Is" is new and representative of their other work. And The Lightfoils sound like the Cocteaus on speed ("How It Is"), and the final track by We Need Secrets is an odd one, but the talent of this one man band on Swimming Pool is clear, hinting at interesting things to come.
All in all, Wyatt has curated a very good collection of electronic, ambient, shoegaze, and dream pop from the fine group of artists that populate his excellent label. I look forward to hearing more from these musicians.
Hop on over to Saint Marie Records for more details.
comments powered by