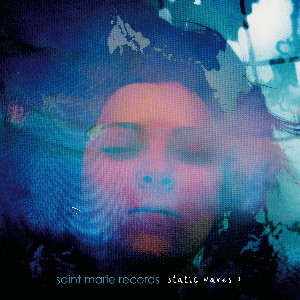 31 December 2014
St. Marie's annual Static Waves compilation hit just around Thanksgiving this year, and it's a massive three disk compilation, one comprised entirely of Slowdive covers! What a treat for the scene that celebrates itself. Topping the list of excellence and opening Disk 1 is the UK's Secret Shine with the shimmering "Anything About Me". It has all the expected hallmarks of classic 'gaze, from ethereal vocals to stunning soundscapes. Dean Garcia's SPC-ECO drops in another slow burner with "Blame", and Elika's sweet "Your Secrets" sweeps you along in its beauty. The Blessed Isles treats the ears with the majestic "Winter Moon", backed by cool vocals and creepy string sounds way in the backgroud. We Need Secrets, with help from Ringo Deathstarr's Elliot Frazier, offer up the fuzzed out "No Kimono". Carta's quiet "My Father's Father's Killers" is a pretty piece, showing the diversity of the artists on this label. "Saudade" from Children of the Stones is a cool, slick tune that percolates along in the best vein of bands like Air or Thievery Corporation. Lightfoils raises the roof slightly with the fast-moving yet dreamy "Addict". And how about Paul Baker's (ex-Skywave/Ceremony) Static Daydream with "I Want You", a highly melodic song reminiscent of scene favorites like Jesus and Mary Chain. "Everything" from ASAKS creates an unique ambient dance genre, and is alternately sci-fi and trippy. Echodrone's "Disparate Numbers (Alt Mix)" is dream pop at its best, building slowly to a stunning climax. Strata Florida's "Falling" sounds unlike anything else here, combining deep in the well vocals with an in your face guitar line. Very trippy stuff indeed! Young Boy's "Restless Boy" has a slightly C86 feel, and Shortwave Broadcaster's "Reflection" has a cinematic and folky ambience.
Disk 2 starts off with "Instant", somber dream pop with slow backbeats from broaddaylight. Next up is the soft swell of Seasurfer's "Waves", creamy dream pop with more than a twist of Cocteau Twins. Blackstone Rnger's "Lonesome Waste" is lovely psych with Ruth Ellen Smith's pretty vocals and fuzzed out bliss. And the interesting "Humming Song" from UK band Blindness is neat, starting off with ominous bass and trippy guitar. It morphs into a thudding beast of a song on the bridge before diving back to a slower pace. Cloud from the Sea is Drowners's lovely Anna Bouchard, who contributes "Vapor", a fragile slice of electronica drizzled with the sweetness of Anna's voice. The History of Colour TV throw down "Shapes" from their most recent album, surging shoegaze with prog overtones and maybe a tiny bit of Jeremy Enigk influence. "Seven" from Bloody Knives is layers of ethereal percussion and keyboard washes, topped by Preston Maddox's watery vocals. I also dig "Golden – Electro Mix" from The FLIR, for both its differences from the other songs as well as its common connections, highly melodic sonics and pretty vocals. And man, "The Housekeeper (Submarine Mix)" from Orange Yellow Red is treated with odd voices and is rather disturbing yet completely unique. The peppy Spotlight Kid drop another lovely tune with "The Waiting Room", Scarlet Youth treat us to their symphonic dream pop on "Blue Skies, Blank Eyes", and Presents for Sally close out Disk 2 with "When We All Move Away", a soft acoustic number that ascends gradually to a splendid finish.
So let's get to Disk 3, full of Slowdive covers. I am not a knowledgeable Slowdive fan (yet), so I will not compare and contrast much, except to tell you what I like here. It's clear that all these groups revere Slowdive, and that all these songs are a labor of love. You can't go wrong with Echodrone's gorgeous take on "Shine". It spakles, jingles, and shimmers all over the place, and is a great start to this disk. And how about "When the Sun Hits" from The Blessed Isles, carrying all the hallmarks of that classic tune? Its mystery and beauty pays proper tribute to this song. "Joy" is Spotlight Kid's beautiful rendition, replete with Katty Heath's lovely voice floating on top of shimmering waves of guitar. Lotte Kestner's quiet and solemn "Alison" is a pretty footnote, and a stark contrast to the kickin' high octane "Beach Song" from Static Daydream (kudos, Paul Baker) that follows it. Drowner's "Hide Your Eyes" is lovely, as is "Altogether" from The High Violets (my favorite here). "Crazy for You" from Lilies on Mars is all vintage bachelor pad coolness with its swirling keys and gauzy vocals. Scarlet Youth, with help from Tuire Lukka on vocals, offers up the beautiful symphonic sweep of "Primal", while Germany's Seasurfer treats the oft-covered "Dagger" with its own brand of trippy dreamgaze. "Morningrise" from Resplandor is magnificent, as is another fan favorite, "Souvlaki Space Station", done here in fuzzed out and fantastic form by Jetman Jet Team. The Capsules close out Disk 3 with "Here She Comes", pretty electro dream pop and a sweet coda to another great set of tunes from the equally awesome Saint Marie Records.
Check the album out at Saint Marie Records.
comments powered by