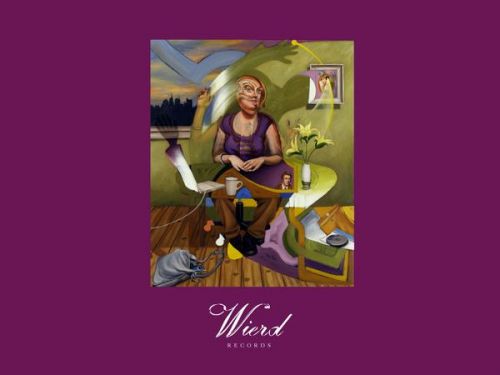 6 November 2006
Replete with a host of chill-inducing synthetic sounds from New York City and beyond, the first release from Wierd Records [sic] is a frosty baptism by fire into the underworld of coldwave, post-punk, and minimal synth. The compilation documents music played and performed at Wierd, the "radically confusing and glamourously uncomfortable weekly party" at Williamsburg's Southside Lounge, which, although temporarily on hiatus, has thrived surreptitiously for the past five years.
I won't even try to pass it off like I'd heard of most the bands included on the 3 LP + 1 7" set. The beauty of this compilation has been its role in introducing me to so much new and cutting edge music—spare synths that suck you in, electric guitars that slice and aurally eviscerate—this is a release that begs to be listened to alone, in the dark.
Favorites include TOBIAS BERNSTRUP's "Surround," an entrancing dancefloor-ready gem of pulsing darkwave, SLEEP MUSEUM's "Butterfly," a creeping, minimal soundscape with muted, disturbing vocals that truly anticipates a leather ball gag being imminently forced into your mouth, EPEE DU BOIS's "Tracking Shot," a plodding electro-death march if I've ever heard one, and BLACKLIST's "Exit," a vital and vampiric number in the vein of classic British post-punk that we all know and love.
When taken as a whole, I wouldn't really call this release just a record per se, but instead an objet d'art. In short, its aural appeal is equally matched by its aesthetic appeal. Housed in a sleeve of olive and raspberry, the compelling cover of the set is a painting by Wierd founder PIETER SCHOOLWERTH. A surreal depiction of a seated woman with a murky city skyline and various technological items (laptop, CD player, cellphone) around her, the image brings to mind various postmodern themes such as fragmentation of self, de-centralization/media domination of society, etc., etc. While it is only the cover, the painting's resonance with the musical and lyrical content of the compilation is unmistakable and puts you in the proper mood for what's inside.
Opening the gatefold reveals a 26-page booklet featuring an entertaining collage of drunken revelry, (including a few lovely photos of a large, hairy man in a tiny thong), and all other kinds of weirdoes, along with full pages dedicated to the bands.
I could go on – there are many reasons to fall in lust with this release. Just make sure that if you do listen to it alone in the dark you bring plenty of candles: some to light your way as you gaze at the record jacket and liner notes of course, and some for the hot wax, which you'll need to remind yourself that you indeed are not dreaming, and that new music can still be this icy and invigorating.
Purchase this artifact if it's not already too late – (only 1000 were printed) – and check out the Wierd Records release party Thursday, November 9th at Club Europa in Greenpoint!
comments powered by