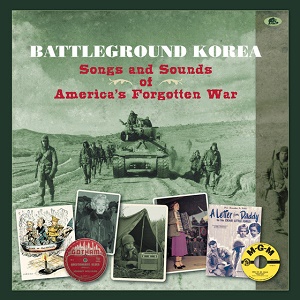 27 June 2018
At the end of World War II, the victors, i.e. the USA and USSR, split the territories they'd defeated along ideological lines. Korea was one of the casualties, having just been released from Japanese control. Soviet Russia had defeated the Japanese in the north with help from Communist China, allowing the US to sweep in and control the south part of the country after the Japanese surrendered. Attempts to join the two regions failed, leaving them permanently divided as two sovereign nations always ready to wage war on the 38th parallel, aka the DMZ (Demilitarized Zone). On June 25, 1950, nearly five years after WWII ended, tensions came to a head, sparking a three-year war between the countries driven by the powers that had backed their initial separation. American youths were drafted to fight for the South in what would eventually end up a stalemate.1 This experience of a grunt in the Far East is now passionately told in a painstakingly researched 4-CD collection compiled with a beautiful book full of pictures and history for us to remember "America's Forgotten War."
Going to War Again, the first disc, encapsulates the country's reaction to hearing the news it was going to war, or rather a "police action," on foreign soil. Not surprisingly, the divide rests between musical styles. Country artists like Sunshine Boys Quartet, Wally Fowler and Hank Harral brandished slightly apprehensive patriotism with prayers for the troops, celebrations of small victories and chest-beating. Blues, on the other hand, took a much more cynical view. Lightnin' Hopkins, Fats Domino, Willie Brown, BB King and John Lee Hooker all lamented draft practices, news of the conflict and the war itself, knowing that they and their peers would be the first in line as cannon fodder in a dispute that had nothing to do with their day-to-day lives.
Somewhere in Korea, the second chapter, tells the story of the soldier mired in constant battle. At this point, both country and blues felt the soldiers' experience. Songs by Bill Cason, The Louvin Brothers and Ernest Tubb on the country end and Lightnin' Hopkins, Tommy (Weepin' and Cryin') Brown and Sherman "Blues" Johnson on the blues side all tell the pain, heartache and tragedy of being a soldier on the front lines. Even Howdy Doody, the popular children's puppet, begged for blood donations on his show. The outcome looked much more dire than anticipated.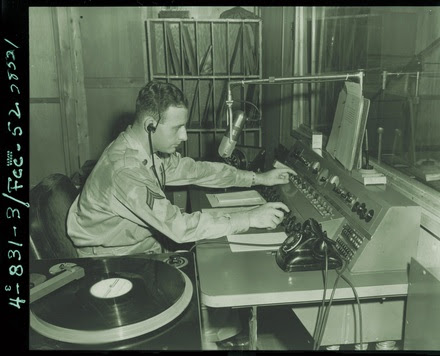 By disc three, On the Homefront, war fatigue had set in. The constant stream of bad news coupled with political disputes leading President Harry Truman to fire General Douglas MacArthur, as well as talks of dropping the atomic bomb, led songwriters and musicians to plead for an end to it all – and yet another divide. A posthumous letter by PFC John J. McCormick (KIA) to his daughters became the subject of songs for Red Foley, Tex Ritter and Tiny Hill, while Gene Autry, Jimmie Short and Ray Snead ridiculed Truman's fateful decision. Pleas to keep daddies safe came from "Skeets" McDonald, George Simerly and Cecil Grant; The Dixie Ramblers and Roscoe Hankins just wanted it to be over. Eventually, humor set in and several comedians were telling jokes about GIs' wives getting lonely (wink, wink). Finally, the election of Dwight D. Eisenhower saw an end to it all, which happened July 27, 1953.
Disc four, Peace and its Legacies describes picking up the pieces. From tributes to President "Ike" to celebrations of husbands, brothers, sons and nephews finally coming home, people were just glad it was over whether country, blues, jazz or gospel. Lingering truths remained, however. Ernest Tubbs delivered "Missing In Action" and Billy Strange reminded "I'm Still a Prisoner." Purple Hearts and White Crosses became song subjects lamenting the wounded and dead. Eiton Britt, Red River Dave and Don Reno, Red Smiley & the Tennessee Cutups all sang eulogies for the unknown soldiers and forgotten men who gave their lives in battle. The last word, however, comes from Dick Curless, a Korean War veteran who transformed the Asian love song and unofficial theme song of the war "Shina No Yoru" into country ballad "China Nights" because, like many of his compatriots, the song resonated deeply with him.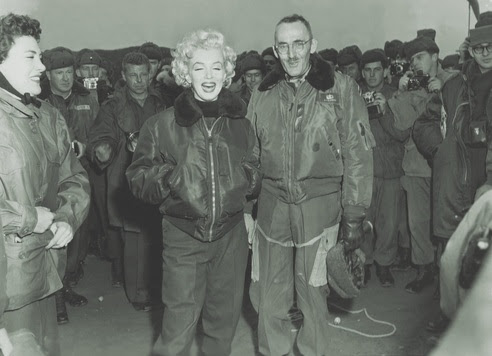 The book comprises an equal part of this magnificent release. 160 glossy pages of photos, track listings and biographies depict the records presented here. Candid pictures of troops, maps and posters add to the story, fleshing out the phase-by-phase history. A spread dedicated to Marilyn Monroe's trip to Korea reminds us of the importance of celebrities to our troops overseas as a connection to their life at home. It's simply monumental.
The Korean War barley appears in today's schoolbooks, a tragedy considering people sacrificed their lives – and not always by choice – only to be relegated to a sentence on a page. This is the tribute those forgotten deserve. Let it remind us that war is nasty, ugly and not something to be swept under the rug to be ignored.
1 I am not an historian. This very general description of the buildup to the Korean War was culled from various sources in an effort to give a brief version for the purpose of this review. Any errors or misinterpretations are not intentional and solely the fault of the author.