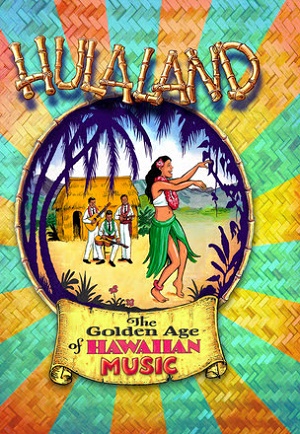 29 October 2015
Long before it was a US state, Hawaii was revered as an exotic, mysterious paradise of relaxation and cool in mainland popular culture. Tin Pan Alley, Hollywood, cartoons, even rock'n'roll have all been touched in one way or another by Polynesia, from tikis to grass skirts and colorful shirts to surfing. Beautifully packaged in a four CD set with a full color book assembled by compilers James Austin and Jim Allen, with help from underground artist and member of R. Crumb & His Cheap Suit Serenaders, Robert Armstrong, Hulaland documents both the kitsch and authenticity of America's fascination with its youngest member in a single collection, which the liner notes emphatically proclaim is "for the tourist, not the purist."
The first disc, titled From Hollywood to Honolulu, chronicles the impact ukulele, steel guitar and luaus made on popular music from 1931 to 1957. Songs recorded by Louis Armstrong, Ethel Merman and Slim Whitman appear alongside Hawaiian exports, like Tau Moe, Sol Ho'opi'i and His Novelty Quartet and Ukulele Ike, as well as movie excepts from George Burns and Gracie Allen, Hawaii Calls and Betty Boop. Disc two, Splendor in the Grass, covers lounge, exotica and rock'n'roll between 1958 and 1974. Here, the themes for Hawaiian Eye and Hawaii Five-O rest solidly beside jazz-infused fusions by Arthur Lyman and Milt Raskin & His Orchestra, surf rock from The Ventures, Bobby Christian and The Lincoln Trio, numerous pop vocal oddities and TV commercials.
Hawaiian Classics, the third disc, features rarities from Robert Armstrong's personal collection of scratchy 78's released from 1927 to 1940. Some of the earliest authentic Hawaiian recordings by Sam Alama, Mike Hanapi and Andy Iona and His Islanders appear here alongside stateside records by exports like Jim and Bob, King Bennie Nawahi and Sam Ku West. Finally, disc four, Contemporary Hawaiian Classics compiles modern groups, most of which have Armstrong as a member, who keep the sound alive, like Ken and Bob, The Joy Buzzards and Janet Klein and the Parlor Boys, featuring Ian Whitcomb of "You Turn Me On" fame on ukulele. It's an astounding collection of music from true enthusiasts of the genre.
Though the price of a plane ticket to Hawaii may exceed the confines of our personal finances, Hulaland brings a piece of the island state right into our living rooms. Take a journey, not only over land, but also through time, and ride streams of steel guitars and waves of ukuleles into the sunset.
comments powered by