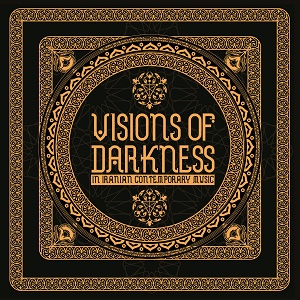 26 September 2017
Historically, music has been an extraordinarily potent form of rebellion. Underground clubs existed throughout Communist Europe, showcasing local musicians who dared to express dissatisfaction with their daily lives. Here in the US, rock'n'roll created a whole new youth culture, sparking something that has continued to adapt for over half a century, producing ground-breaking punk and hip-hop in its more troubling times. Iran may be as oppressive as a regime can get, but there youth has embraced experimental music as a mode of expressive freedom. This unprecedented compilation finally sheds light on a scene that thrives despite its home country's religiously driven state.
The music on Visions of Darkness shows a thriving community of explorers and risk-takers, both sonically and physically speaking. Though all the artists are unknown in the Western world, each possesses a love and excitement for their craft through a myriad of tones, textures and emotions. Various modes of experimentalism receive representation, from overdriven static to dark ambiance to found sound tapestries, and on to ominous synth drones and alien lounge music that actually contains a beat. It's like the topography of the country – its mountains, deserts, valleys and riverbeds – set to music in the shadows of moonlight.
Despite our current political state, we in the US still have it pretty good when it comes to artistic expression, something we can't help but take for granted. Let this compilation be a reminder of the privilege we possess and never want to lose.