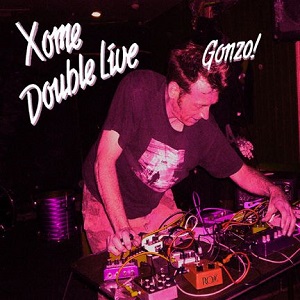 16 June 2015
In an homage to the live double album movement of the '70s, Sacramento, CA noisician, Bob Scott, aka Xome, celebrates over twenty-five years of deconstructing sound with an epic live collection compiling performances from the past decade.
Double Live Gonzo is the harsh noise enthusiast's wet dream. Amid growling static and grinding squelch, hummingbird frequencies freeze briefly into tones before zipping back into interstellar distortion. Cybernetic cats howl at energy distorting black holes, while waves of hum become storms of hiss. Throbbing, pulsing, twisting screams of electronic agony gyrate spasmodically through sheets of fluttering dissonance. Don't expect a melody because there isn't one. This is pure sound manipulation without the inconvenience of instruments.
Where lesser harsh noise "artists" get tedious after thirty seconds, Xome keeps things interesting by continually moving forward in his own world of controlled chaos. Music is boring, bring the noise.
comments powered by