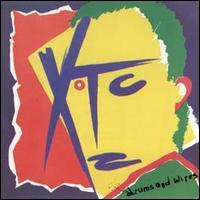 17 August 2009
Drums and Wires, released 30 years ago (August 17, 1979), initiated XTC Mark II, with the departure of keyboardist BARRY ANDREWS and the arrival of guitarist DAVE GREGORY drastically changing the group's sound. The album also took the band to a higher level of recognition in the United States thanks to the alternative radio popularity of the single "Making Plans for Nigel."
That song reached No. 17 on the U.K. singles chart, and COLIN MOULDING's choice of British Steel as the corporate entity for which Nigel was being groomed proved fortuitous in a way when 100,000 steel workers went on strike a month after the LP's release; the title phrase became common currency, showing up in headlines.
Musically, the album showed the revamped quartet moving away from XTC's tenuous connection to punk. STEVE LILLYWHITE was chosen as producer based on the drum sound of the first SOUXSIE AND THE BANSHEES album, which he'd produced. His first work with the band was the Moulding-penned single "Life at the Hop," which, proclaiming a love for old dance records, heralded the band's more melodic and poppy sound. (Released before the album was made, it reached No. 54 on the U.K. charts, and wasn't on the original British LP, as usual in those days.) Also instrumental in the new sound was engineer HUGH PADGHAM (who took that big drum sound to subsequent sessions by PHIL COLLINS and the POLICE).
Even the album's title reflected the new sound, with drummer TERRY CHAMBERS's unusual rhythm patterns emphasized more ("Making Plans for Nigel" is a prime example) and with two guitarists (the wires being electric guitar strings) now in the band. XTC's trademark hyper energy and quirkiness remained, and that was largely due to ANDY PARTRIDGE's eccentric songwriting. "Helicopter" was inspired by an old Lego ad and featured a mutant disco beat. "When You're Near Me I Have Difficulty" is one of the best songs ever about the nervousness inspired by a schoolboy crush. Partridge said of "Roads Girdle the Globe," "the guitars sound like someone cutting the string on a bale of barbed wire." "Real by Reel" is an expression of paranoia. "Outside World" dissects the modern world in nursery-rhyme fashion.
In later years, after Partridge had a nervous breakdown due to stage fright and the band stopped touring, the group's sound became much calmer. But Drums and Wires and XTC's following album, Black Sea, found the group at its peak combination of tunefulness and energy.