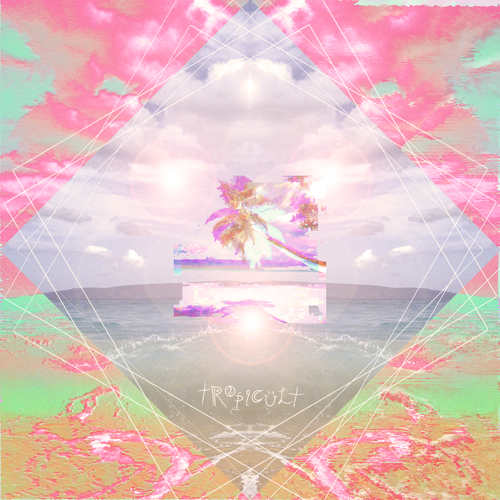 27 July 2011
The title says it all. Tropicult. Zombelle and Myrrh Ka Ba's collaborative EP is all breezy foreboding beats and acid-infused synth sea breeze. Los Angeles' Zombelle masters that mesmeric, rhythmic sing talk that makes San Francisco's Myrrh Ka Ba more musically hypnotic and gets you into the groove of torch lit beaches with vicious undertow.
"Bad Creation" opens the record with laid back, slow swirls of ocean air; I'd call it minimal jungle, where the fast breaks have been dissolved by salt water, leaving a throbbing sonic shell. Then "Beach Blanket" and "Hourglass" follow, each dragging you deeper into sun scorched sonic comas, sticky with sex and sand. Zombelle vamps as Siouxsie Sioux in "Street Sharks," which has an evil grind of stormy sunsets that beg sailors to take warning. Black beach umbrellas and waterproof eyeliner are very necessary.
"Tropocalypse," ends the EP fiercely, where the synth lines are more 90's industrial than trip hop or electro house as they tend to be throughout the rest of the record. Here Zombelle and Myrrh Ka Ba create a soundtrack for sunny day turned tropical night rave, with the imagined sweat of half naked, sea-soaked dancers punctuating each pulse.
An entrancing meditation on the beach front occult, Tropicult is exactly as it sounds. For the dying daze of summer, this is the EP to beat.
Get it here!
comments powered by