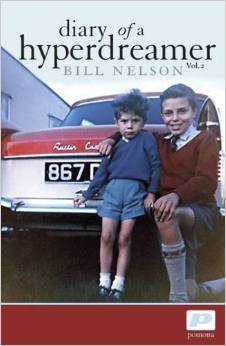 10 July 2015
Bill Nelson
Pomona Books
http://www.pomonauk.com
Reading the diaries of literary greats has been routine for hundreds of years, but it's been a rather recent phenomenon for musicians- Brian Eno's A Year With Swollen Appendices from 1996 may well have started the notion- to the point it has become commonplace. Reading the day to day thoughts and activities of a favorite gives us a look behind the scenes at the creative process and the daily drama they face.
Bill Nelson, the genius behind Be Bop Deluxe, Red Noise and numerous solo endeavors recently published the second volume of Diary of a Hyperdreamer, covering the years 2005-2006, and it's a compelling, honest look at a man who has largely abandoned the circus-like atmosphere of the commercial music industry and instead has formed a DIY environment that allows him to create and publish his music with little involvement from anyone other than his fans, who, as this diary shows, Nelson is devoted to, and they him. By the mid-2000s Nelson was no longer on a major label, releasing his unique brand of creations on his own label, direct to fans. This allows him to focus his energies wherever the muse takes him, such as the The Alchemical Adventures of Sailor Bill, the 2005 album of the sea, or the two volume Rosewood series of acoustic works. To be able to dedicate yourself to the interest of the moment, divorced to an extent from commercial pressures is seemingly a godsend for Nelson, and this diary reflects it.
But all was not well during the years chronicled, as Nelson tragically lost his younger brother Ian in 2006. The cover of the book shows the two as youths, and his sorrow is palatable and heartrending in these pages. Nelson in the foreword admits to not re-reading those entries before this book was published, and one can understand why.
These diaries show Nelson the guitar geek, husband, and performer with such notables as Harold Budd and John Foxx, and as well a middle-aged man dealing with car troubles and occasionally, too much wine. It gives you a greater understanding of, and appreciation of one of modern musics most innovative and respected craftsmen, as he goes through life day to day. One hopes this isn't the last we hear from Bill Nelson, hyperdreamer.